(Prayer offered by Matt Daly on the Public Address system for the school on Thursday, 7 November 2013)
Let us pause and remember we are in the holy presence of God.
I was recently reminded of a Christian Service story that I thought was fitting for this morning.
It was about three years ago on a bitter cold winter Wednesday morning. Students were filing in to Campus Ministry, as was their habit, signing in, and lounging on the couches as they waited for their classmates. Conversation revolved around the weather, how long it took their cars to warm up that morning, and whether or not snow was in the forecast. Students were bundled up in fleeces and ski jackets, wool hats, scarves, and mittens at the ready. And then a young woman walked in with no jacket at all – just her school uniform, shirt untucked a bit. And like the music screeching to a halt in a movie, conversation stopped and everybody stared. "Dude, where's your coat?" three people asked at once. "I don't have one today," she responded. The general reaction was a shrug and return to conversation. Some just said, "You're crazy," or "You're going to freeze." Concerned, we called the young lady into Mrs. Estes' office for interrogation. She sat down and proceeded to tell us a story that was both horrible and beautiful.
She had been volunteering at Ella Risk Elementary School in Central Falls for four weeks at that time, and she had formed a nice relationship with some of the students. Towards the end of her time there every week, the teacher would let the class out for recess and the children would debate amongst themselves while they put on their coats who would get to play with our La Salle student first. And for four weeks, she would walk out the door and look back over her shoulder to see two of her students sit down quietly at their desk and put their heads down. It was the same two students every week. Finally, the previous week, she got up enough courage to ask the classroom teacher about the two students. The teacher told her about how every morning the two students would show up to school under-dressed for the weather. No coat or fleece, no wool hat or mittens. Just a long sleeve T-shirt and a pair of jeans or sweats. The teacher called home to find out that in both cases, the young children had winter coats but they were misplaced or lost or stolen and the parent didn't have enough disposable income to purchase a new one. So, the two would sit inside each week during recess so they didn't catch cold.
So sad! I remember how much fun recess used to be. But I don't remember not having a coat. So we asked our student how this story related to her and her lack of a coat that morning. She told us that she wasn't going to bring her coat for the remaining Wednesdays so when it came time for recess, the teacher would make her stay inside too. She wanted to make the students feel better, make them feel as if they didn't stand out amongst their peers, be able to keep them company while their friends were outside playing. We sent her on her way, not worried that she would catch cold, but happy that she seemed to catch a bit of fire.
November is an important month to keep this story, this reality, in mind. Three weeks from today we celebrate Thanksgiving. The word, "Eucharist," the weekly memorial meal we celebrate each Sunday, that word "Eucharist" actually means, literally, "Thanksgiving." And in that meal we watch members of our church bring ordinary ingredients such as bread and wine to the altar where God receives the gift, transforms it into something extraordinary, and gives it back to us. Let's use that approach as we participate in the events of this month. The money we bring in tomorrow that will go to provide a meal to a family in need this Thanksgiving, let that be the humble gift we bring to the altar and let God transform it into something extraordinary. The coat or fleece we bring in for our warm coat drive that will end up keeping a child or a homeless vet warm, let that be the small sacrifice we offer up to God.
And in true Eucharistic fashion, in the true spirit of Thanksgiving, let us be forever changed in the experience of sacrificing of ourselves for the salvation of the cold and the hungry.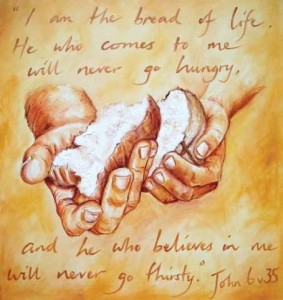 Let us pray in the words of John the Baptist in Luke's Gospel.
And the crowds were questioning him, saying, "Then what shall we do? If the Messiah is coming, how should we prepare?" And he would answer and say to them, "The man who has two coats is to share with him who has none; and he who has food is to do likewise."
Amen.
St. John Baptist de la Salle…pray for us.
Live Jesus in our hearts…forever.
Matthew Daly (director of Campus Ministry)