Each Wednesday morning, when about one quarter of the Senior Class (85 or so young men and women) leaves school, they enter upon a new high school experience—Christian Service.  Designed to be a type of "capstone" Religion experience, Christian Service allows students the unique opportunity to make what they have learned in Religion classes and in their other classes a reality.  Whatever their faith or religious belief, young people are confronted face-to-face with the great universal religious truth of "Love your neighbor" or "Do good unto others" or "Whatever you do for the least of my brothers or sisters."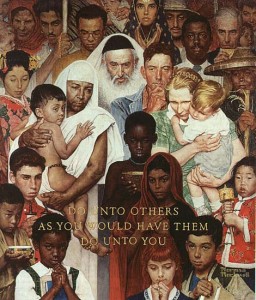 Listen to the reflections of the young men and women who just finished 7 weeks of service:
The thing that I'll remember about Tides is what P. told me, "People don't know the real me, they don't know my story. I sometimes put on an act and act up but it's just for show because they don't know the real me… they don't know my life and what I've been through." Also, what I'll remember is that even though he's been through a lot of things, he still manages to keep his head up and stay strong. He told me he has lost some good friends.
We go to service in groups to support one another. The work is very new to us and it can be unsettling being out of our comfort zone. Our group has bonded. There were people in my group that even after going to school with them for four years, I did not know. Now we are very close. I have learned how important support is to our group. I help them and they help me.
The first week of service at the Amos House, I was serving rice at the front. I met a man, who said that he had graduated from LaSalle and that he was now seeking food from a shelter. This had a large impression on me because the people we were serving no longer seemed like they were distant and that this would be the only place I would see something like this. I realized that this is much closer to home than I thought, and that circumstances like this can happen to anyone.
During my Service, there was this boy who played for a pre-teen football team. When I first walked into the class, the teacher asked the kids if any of them wanted to go to La Salle, and no one answered. As class went on, I had to work with this child one on one, and he told me that he would do whatever he needs to, to get into La Salle. I found this child moving because he was beyond determined to get to La Salle. If he has that same determination with his studies, he will succeed, and overcome whatever life throws at him. 
For these students and so many other Seniors their Christian Service experience opens their eyes to the needs of others and opens their hearts to the possibility of giving of themselves to those not blessed with the gifts they have been given.
Brother Frederick Mueller