Catholic Schools Week at La Salle Academy, Providence 
26-31 January 2014
This year our theme is "Enter to Learn, Leave to Serve," a theme that calls to mind our Lasallian heritage of service to the poor.  We will be celebrating this theme with prayers and activities throughout the week. 
Prayer Schedule
Monday: Ed Sirois, Department Chair of Religious Studies. Ed has been teaching here for over 40 years.  He has created a video around the parable of the talents, with pictures and the stories of our graduates who have done service since they have left La Salle.
Tuesday: Karen Carty Clements, Class of 2003 will be offering prayer on her journey from La Salle Academy to teaching at San Miguel.
Wednesday: Campus Minister Christine Estes will be praying about our Distinguished Lasallian Educator, Janice Drolet
Thursday: Brother Thomas Gerrow, FSC, President of La Salle Academy will lead our prayer around our theme of "Enter to Learn, Leave to Serve."
Friday: Three of our senior students will pray about their experience at the Lasallian Youth Summer Assembly.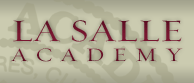 Events:
Wednesday: Founder's Day and Gregg's Cakes for Faculty
Wednesday: Hypnotist Frank Santos Junior in the Auditorium at 7pm! Come and join students and faculty for this delightful performance and possibly get hypnotized!
Friday: Dress down day for our school in Haiti! Cost is $5