(Prayer offered on the Public Address system for the La Salle Academy educational community on Thursday morning, 1 May)
Let us remember… that we are in the holy presence of God
 On Easter Sunday afternoon, armed with leftover Easter candy, luggage, sleeping bags, and the all important air mattresses, 10 travelers headed to Logan Airport and flew to Tucson, Arizona for a week in the desert. We stayed at San Miguel High School in Tucson, sleeping on the floor of their dance room and cooking our meals in their kitchen. Every day we traveled to various spots along the US/Mexican border in our attempt to understand the deeply complicated issues surrounding immigration.
 On our first day we visited the courthouse in Tucson where criminal prosecution of undocumented migrants takes place. The first thing that hits you when you walk into the courtroom is the smell. Migrants have been in the desert and then in detention for days, without access to showers or fresh clothing. The migrants are processed en masse, all pleading guilty together, with no opportunity to address the court and with only a 20 minute visit with an attorney. This is called Operation Streamline and the constitutionality of the process is winding its way through the courts. An attorney we spoke to commented that it is a sad day in America when large groups of dark men are shackled together and treated like animals. The historical parallels are incredibly frightening. A border patrol agent we spoke to was very proud of his tracking and hunting skills and again we were reminded of how these desperate people are viewed as less than human.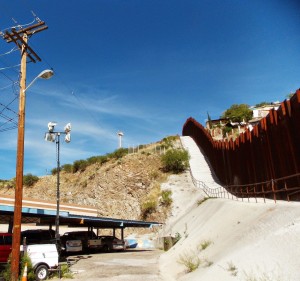 On another day we hiked a trail that migrants routinely travel to view a shrine that the travelers have set up. It was 90 degrees and only a two mile hike, but it was hard. We continually stumbled on rocks, climbed over brush, scaled a small rock wall, and slid down steep trails. Along the way we encountered items left behind by migrants including clothes, personal items, backpacks, and shoes.
We carried cans of food to place near the shrine and wrote messages of support on them. For a short time we traveled in the steps of migrants and found it a profound experience.
The motto of the Lasallian community is "Enter to Learn, Leave to Serve"
Each time we met with someone new, they would ask us to introduce ourselves by name, grade, and why we came. Each time, every single person would say "I wanted to come on this trip to learn more"
Enter to Learn.
Then, those in charge of the activity would continue on to enlighten us about an aspect of the immigration issue. They told us stories both of despair and of hope. When we left, each one of us was inspired to make a change. We each felt influenced by the information we learned, the experiences we had, and felt saddened by the realities of what we saw. We all want to continue to advocate for change.
Leave to Serve
 Let us Pray…
 For all those who see "home" and all it means disappear behind them;
For all those who cannot see a home in the days ahead of them;
For all those who dwell in daily insecurity;
For all those who are weary and without a safe place to rest their heads;
For all families in migration we pray.
May the image of the Holy Family fleeing oppression stay with us every day and stay with us each night as we are blessed with returning to a home.
May we also be blessed with compassion for those still weary, still seeking, still with so far to go.  -by Jane Deren, 2007
Amen
St John Baptist de La Salle…pray for us.
San Miguel…pray for us.
Live Jesus in our hearts…forever.
Students: Katherine Kerwin, Hanna Fuchs, Maura Sharkey, Regina LaPietra, Jessica King, Samantha Smith, Madalyn McGunagle, Grace Feisthamel.
Chaperones: Judith Maloney (Science) and Kristine Chapman (Social Studies)