(Prayer offered on the Public Address system for the La Salle Academy educational community on Tuesday morning, 6 May)
Let us remember that we are in the holy presence of God.
I know that I am not the only one who loves Pope Francis. I think what I love most about him is that he shows we should celebrate life in all its forms. He's done this not by magnanimous acts, but by simple gestures such as calling students on the phone, kissing people with disabilities, washing the feet of poor women, and embracing prisoners. In his words, "God is in every person's life. Even if the life of a person has been a disaster, destroyed by vices, drugs or anything else — God is in this person's life. You can, you must try to seek God in every human life."
Our theme this year for Pro-Life week is "Love Life". In many ways, everyone would agree with this statement and it is a basic human instinct to strive to live. However, there are many instances where our culture has, in the words of St. Pope John Paul II, become a culture of death where human life is expendable if it does not fit our definition of "something worth living."  It is not always easy to follow the Church's teachings, however. Sometimes we hear of babies born without a brain or someone suffering through a disease where they have much suffering, or prisoners who have been accused of committing horrible crimes. But again we can be guided by the Pope who says, "Although the life of a person can be a land full of thorns and weeds, there is always a space in which the good seed can grow. You have to trust God." Life is not something that any human has the right to determine that the best action is to deny life for someone else. We have seen the anencephalic baby born in RI who has defied all doctors' predictions of instant death, yet she continues to live nearly 2 months later. There have been so many prisoners put to death who have been proven later by DNA to be innocent. Every day science has a new cure or treatment for those whom doctors previously predicted would soon die.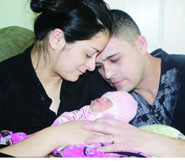 So it is simply the fact that we don't get the choice to decide who gets to live or die. Let's speak up for all life, from conception to natural death, as a matter of social justice.
Let us pray,
The Pope sent this Twitter message to those who marched in D.C. on Jan.22:
"I join the March for Life in Washington with my prayers. May God help us respect all life, especially the most vulnerable". Lord, give us the courage as Christians to follow the way of Christ in seeing that His face is in the face of every human being on Earth.  AMEN.
Saint John Baptist de La Salle…pray for us.
Live Jesus in our hearts…forever.
Afternoon Meditation: Look at the injustices in our world that deny life and pray for our culture to Love Life and let God decide.
Leslie Martinelli (Science Department)