(Prayer offered for the entire La Salle Academy educational community on Friday morning, 29 August 2014)
Let us remember that we are in the holy presence of God.
I am grateful to have this opportunity to welcome everyone back for another school year and to lead our community in prayer.  Certainly, I extend a special welcome to all the students, many from around the world, who are new to La Salle—know that we are pleased that you are joining us on your educational journey.
Hopefully you all noticed the additions to our Heritage Hallway.  The new display outside the Deans' Offices helps to show us how we here at La Salle in Providence, RI are just part of the Lasallian World which extends to 80 countries around the world.
In understanding how we are connected to our Lasallian brothers and sisters throughout the world, we can be grateful that we can come together today in peace and safety, and we remember our fellow Lasallians who are beginning the school year in very difficult circumstances.
Think about our Lasallian schools in West Africa and the impact of the Ebola virus epidemic.  Our schools in Nigeria are closed for what would have been the first three weeks of school.
Remember those at Bethlehem University in Palestine and our high school in Jerusalem in the midst of the Israeli-Palestinian conflict.
And we cannot forget the students at our brother school, Justin-Siena High School in Napa, which had to delay the opening of school to clean up after the earthquake and to allow the students and their families to get their homes back in order.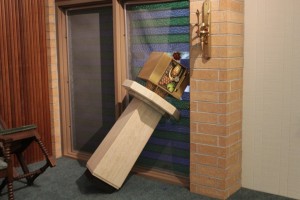 Finally, we remember the students and faculty at Christian Brothers College High School just on the edge of St. Louis only a few miles from the turmoil of Ferguson, Missouri.
How fortunate we are to live here in Providence, RI!
Let us pray:
Lord, I ask you to watch over and protect all of our students, teachers, and staff during this new school year.
Help each of us to fully understand and fulfill the responsibilities of our present vocation as student, teacher or administrator.
Lord, help us to be grateful for all of the blessings you have bestowed on us and help us to fully appreciate the many advantages that we have been given in life.  We also implore you to aid our fellow Lasallians around the world who face great challenges at the start of this new school year and we ask all of this through Christ our Lord.  Amen
Saint John Baptist de La Salle…pray for us.
Live Jesus in our hearts…forever.
Brother Thomas Gerrow, FSC (President)