(Prayer offered on the Public Address system for the entire La Salle Academy educational community on Monday morning, 17 November 2014)
Let us remember that we are in the holy presence of God!
We begin the week with these words and  we will hear these same words 40 times this week and every week of the school year.  These words, which resound through this school and every other Lasallian school around the world, remind us of the very foundation on which this school bases its existence.
Well over 300 years ago, St John Baptist de La Salle and the early Brothers spoke and wrote regularly about the schools imbuing in its students the spirit of Christianity.  This meant that not only were reading, writing and arithmetic stressed to prepare young people to live a productive life but that religion was taught in class.  More importantly, the spirit of Christianity, the living out of the Gospel message in practical ways, was highlighted in all that the students did.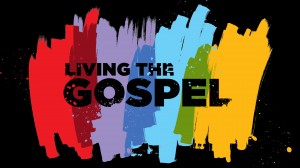 As we begin Spirit Week here this week, we pray that the spirit of Christianity, the living of the Gospel in all we do, be the handbook that is written  on each of our hearts.
Let us pray:  Father in heaven, I give you today, all that I think and do and say. And I unite it with all that was done by Jesus Christ, your dear Son.  Amen.
Saint John Baptist de La Salle…pray for us.
Live Jesus in our hearts…forever.
Brother James Dries—Science Teacher