(Prayer offered over the Public Address system for the entire La Salle Academy educational community on Friday morning, 21 November 2014)
Let us remember that we are in the holy presence of God.
As I look back on my life, and as you look back on yours, I bet, one thing that often occurs to me is how very different things could have been.
When I was a senior at La Salle, I applied  to only one college.  What if I had not been accepted?
When my draft board, during the Vietnam Era, refused to allow me to join the Peace Corps, I hustled to get into a graduate school – and there fell in love with the woman who would become my wife, the mother of our five children.
I bet you have things like this in your life, small things, even negative things, that have helped turn you into the person you are now.
Well, today we Lasallians around the world are celebrating one relatively small thing that has had an enormous impact on who we are today, and where we are today.  In 1691, our Founder, John Baptist de La Salle, was besieged in his effort to establish his schools.  People misunderstood him.  Others were jealous of him.  Still others, teachers, blamed him for harming their business.  Many thought that he was just "too good" to be taken seriously.  I mean, really, what sort of person gives up a comfortable and promising life to teach poor city boys?  It certainly looked as though his schools might not survive.
De La Salle's response was to gather his brothers for an enlivening retreat, and then, on November 21, he and two of his hand-picked best brothers pronounced what we now call the Heroic Vow.  Each one of these early Brothers vowed solemnly to do everything necessary to carry out the mission of the newly-founded schools, even if it required living on bread alone.
This Heroic Vow is for us today both symbol and substance.  It is a symbol of determination, the same determination that the Brothers are showing today.  When I was a student at La Salle the number of lay teachers that taught me could be counted on two hands.  Today, if you have a brother in your daily routine you are mightily blessed.  But in the face of this absence of vocations the brothers have not panicked.  Rather, they have heroically trained teachers, like all those you know here, about their history, their devotion to God, their mission, their spirituality, thus ensuring that the mission will endure.
And the Heroic Vow is substance, because De La Salle's fledgling Institute did survive those early challenges.  As we know, the Institute flourished and, as our newest first-floor mural attests, now has a presence across the globe.
So, let us all be thankful for John Baptist de La Salle, for Brother Nicholas Vuyart, and for Brother Gabriel Drolin for the commitment they expressed on that November day in Paris some 320 years ago.  It has resulted in the spirited community we all call our own.
Let us pray.
God, Creator and Sustainer, we thank you for guiding the remarkable priest, John Baptist de La Salle, in the work of educating the young, especially the poor.  And we thank you, also, for his many Brothers, especially those who serve us in this community in Providence.  Bless them with the determination of our Founder, and bless all their associates and all their students.  Praise and glory to you always.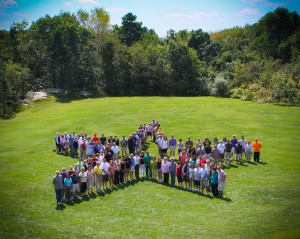 St. John Baptist de La Salle, pray for us.
Live, Jesus, in our hearts.  Forever.
Michael McNamara, AFSC–Mathematics Department