(Morning Prayer offered on the Public Address system for the entire La Salle Academy educational community on Thursday, 8 January 2015)
Let us pause and remember we are in God's holy presence.
It has been five years since the massive earthquake that devastated the island country of Haiti. Five years. Can you believe it? I still remember the round-the-clock news coverage. Anderson Cooper and Dr. Sanjay Gupta reporting from the scene. I remember how for one brief moment the world stopped and rallied around a righteous cause – people being generous in time, talent, and treasure. And over the course of weeks, and then months, and now years, life has returned to normal for Anderson Cooper and Sanjay Gupta and me. And it is easy to forget that life in Haiti, while improved in some ways from the aftermath, still faces many challenges.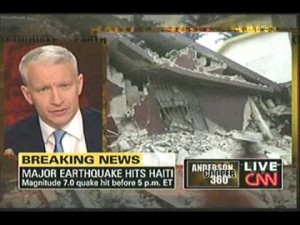 I spent time in Haiti from November 2000 through May 2001, long before the earthquake. I loved my time there – the culture, the food, the people. The people, in general, had two defining characteristics. One was an unshakeable faith in Bondye, Kreyol for God. The second was a work ethic that was second to none – the type of work ethic that develops when you work for survival, not the work ethic that develops when survival is taken for granted. But even with such hard workers the country, back then, was still the poorest country in the hemisphere – by far. The missing ingredient was opportunity. No public education system, so many young kids wouldn't or couldn't afford to go to school. No opportunity. But what happened when opportunity is given?….
Reggie Fils-Aime — President of Nintendo America
Ralph Gilles – Automotive designer of the Chrysler 300
Zoe Saldana and Garcelle Beauvais– Actresses
Nikki Michelle James — Tony Award-winning actress
Henri Ronald Ford — Chief of surgery at Children's Hospital, Los Angeles
Jerry Duplessis — Grammy Award-winning composer
Lee Holdridge — Emmy Award-winning composer
Mia Love — US Representative from Utah
Jozy Altidore — US Men's National soccer team
Jason Pierre-Paul in the NFL, Nerlens Noel in the NBA, Touki Toussaint in MLB, and Francis Bouillon in NHL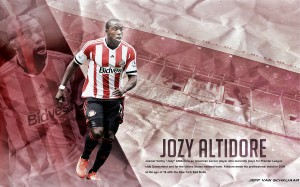 That is why the St. Jean Baptiste de La Salle School, which the Christian Brothers opened in Port-au-Prince back in 2012 is so important. It gives young children who would never get the opportunity to go to school a golden ticket. And that golden ticket is funded almost completely by Lasallian schools here in the States and elsewhere. In December, Lasallian schools across the country celebrated Haiti Solidarity week – a celebration we have this month. Over the next few weeks, as we are distracted by cold weather and midterm exams, there will be occasional reminders of the plight of our brothers and sisters in Haiti and the great work of the Christian Brothers to make a difference. This will all culminate on Thursday, January 29th with a dress down day, the proceeds of which we will send to our sister school in Haiti.
Let us pray (Lord's Prayer in Haitian Creole)
Papa Nou
Papa nou ki nan sièl la,
Nou mandé pou yo toujou réspékté non ou.
Vi-n tabli gouvènman ou,
pou yo fè volonté ou so latè,
tankou yo fè-l nan sièl la.
Manjé nou bézouin an, ban nou-l jòdi-a.
Padonnin tout mal nou fè,
minm jan nou padonnin moun ki fè nou mal.
Pa kité nou nan pozision pou-n tonbé nan tantasion,
min, délivré nou anba Satan.
[Paské, sé pou ou tout otorité, tout pouvoua
ak tout louanj, dépi tout tan ak pou tout tan.] Amèn.
Saint John Baptist de La Salle…pray for us.
Live Jesus in our hearts…forever.
Matt Daly–Director of Campus Ministry