(Morning Prayer offered on the Public Address system for the entire La Salle Academy educational community on Friday, 9 January 2015)
Let us remember…we are in the holy presence of God.
In today's Gospel, Luke tells us about Jesus healing the leper.  The Gospel reads:
"Once, when he was in one of the cities, there was a man covered with leprosy.  When he saw Jesus, he bowed with his face to the ground and begged him, 'Lord, if you choose, you can make me clean.'  Then Jesus stretched out his hand, touched him, and said, 'I do choose. Be made clean.' Immediately the leprosy left him."
In this Gospel the leper who met Jesus did something quite remarkable. He approached Jesus confidently and humbly, expecting that Jesus could and would heal him. Normally a leper would be stoned or at least warded off if he tried to come near a rabbi. Jesus not only grants the man his request, but he demonstrates the personal love, compassion, and tenderness of God in his touch. The medical knowledge of his day would have regarded such contact as a grave risk for incurring infection.  At that time, since leprosy was incurable by human means, lepers were isolated from the rest of the community.  They were confined outside the city limits – many times to the city dump – probably because they could find food and other things there.  In addition, according to law, if you touched a leper, it would cause you to become unclean ceremonially even if you didn't catch the disease.
However, Jesus met this man's misery with compassion and tender kindness. He communicated the love and mercy of God in a sign that spoke more eloquently than words.  Without hesitation, He touched the man and made him clean.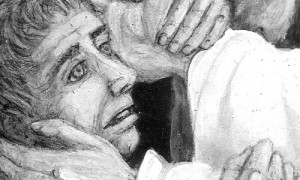 The Holy Spirit inflames our hearts with the love of Christ that we may reach out to others with compassionate care, especially to those who have been rejected and mistreated. The love of God impels us to do as Jesus did – to love the unlovable, to touch the untouchable, and to forgive the unforgivable. Do you allow the Holy Spirit to fill your heart with the love and compassion of Christ for others? If not, what is holding you back?
Are there people in your life that you might treat as a leper?  They may not have leprosy, but the way you shun them, the way you look upon them, the way you treat them, the way you avoid them, perhaps they might as well have leprosy.  When someone who is in need is present to you, do you pretend not to see them?  People created in the same image and likeness of God just like you? Think about it…then do something about it the next time someone needs a helping hand, a kind word, and, most importantly, to know that the love of Christ – the love in your heart – is pouring forth to help them.
Jesus stood with those on society's margins–the least , the lost and the last. This is not news. But it bears daily consideration because of what that means for us. Jesus stood with those on the margins—and he calls us to do the same.
Let us pray,
Dear Heavenly Father,
Send your Holy Spirit to set our hearts aflame and fill us with zeal.  Move us to compassion to stand with the least, the lost and the last.  May we see your Son, Jesus, in the faces of the broken and extend without hesitation his healing hands of grace and mercy, his heart of value and respect. Amen.
St. John Baptist de La Salle…Pray for us.
Live Jesus in our Hearts…Forever.
Wynter Kelly–Dean of the Class of 2015