Dear Young Lasallians:
As the International Council of Young Lasallians launches its annual initiative on September 21st for its International Lasallian Days for Peace enjoining the worldwide Lasallian community to pray for peace in our world and peace in our hearts, peace continues to elude our fragile planet.
The war in Syria, terrorism, and the strife of civil conflicts in various countries around the world has created today's migration crisis causing untold suffering to millions of our brothers and sisters. These must be the focus of our prayer and the focus of our action this year.
A Gospel Adventure is the theme for our global Lasallian Family in 2015 – 2016. The Gospel passage inspiring our theme is the parable of the Good Samaritan. A man going from Jerusalem to Jericho is attacked by robbers who strip him and beat him. A priest and a Levite pass by without helping him. But a Samaritan, a foreigner, stops and cares for him, taking him to an Inn where the Samaritan pays for his care.
The General Council and I invite all Lasallians to re-read this parable in the light of our personal and collective responsibility to respond to the poor in our midst and the migrants on our borders. This is a journey that requires us to embrace their condition with mercy and compassion. This is a journey of understanding of what it means to be human amidst a world that is increasingly indifferent at best and hostile at worst to the poor, the widow, the orphan and the stranger in our midst.
Locally, Lasallians, including you young Lasallians, are responding with mercy and compassion. I encourage you to become familiar with and support any initiatives in your District. Create your own as well. Above all, align yourself with groups advocating for peace and for support of migrants. Challenge the political leaders of our nations to treat all people with dignity and build instruments of peace, not war.
As Pope Francis quotes in his encyclical Laudato Si, "Let our time be remembered for the awakening of a new reverence for life, the firm resolve to achieve sustainability, the quickening of the struggle for justice and peace, and the joyful celebration of life."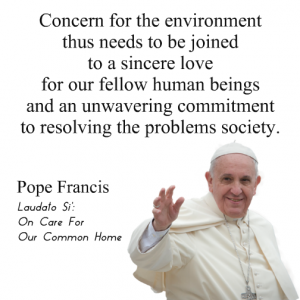 Sincerely in Saint La Salle,
Brother Robert