(Presentation given to PEGASUS 8 Students in their Junior Lasallian Youth Induction Ceremony on Wednesday, 30 September 2015)
Nine days ago, on Monday, September 21st the world celebrated the International Day of Peace, and for us Lasallians this day marked the start of a month of peace-making in the Lasallian world. Ours is certainly a world that needs peace.
Brother Robert Schieler, our Superior General, has written to Young Lasallians like yourselves around the world: "One hundred years after the start of World War I, the War to End All Wars, peace still eludes our planet. That is why these International Lasallian Days for Peace are so important for our world-wide Lasallian Family. Some of you and your families live in the midst of great conflict and suffering. You have a special place in our prayers. You can speak so eloquently to all Lasallians about the desire for a universal peace."
Brother was speaking near the end of those comments about our Young Lasallian brothers and sisters in Turkey, Jordan, and Lebanon surrounded by the threats of the radical Islamic group ISIS or in refugee holding areas across Europe; our Young Lasallian brothers and sisters in Palestine, Gaza, the West Bank, and Israel who constantly are threatened by violence; our Young Lasallian brothers and sisters in African nations like Kenya and Nigeria and the Ivory Coast, and now Burkina Faso with its recent coup overthrowing the government–all threatened by militant terrorists; our Young Lasallians in the Sudan who face the daily reality of war; our Young Lasallian brothers and sisters of Mexico and Colombia at risk in the battles between drug cartels.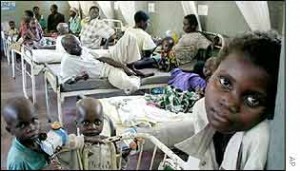 However, we do not have to travel to foreign countries to find violence. We find violence here in the United States—the gang violence in Chicago where more young people were killed last Summer than US soldiers in Afghanistan over the past 5 years; the domestic violence we have heard about in the news where a man in California murdered his entire family and then killed himself; the racial violence we saw flare up again in Missouri and Baltimore this Summer; the number of policemen and military at home in the United States senselessly murdered in the line of duty; the shootings in churches and theaters. About a year ago a Young Lasallian just a bit older than you, a Freshman at our brother Lasallian school in San Francisco, was murdered on his way home after school for no apparent reason; a few years before that two Young Lasallians from our brother Lasallian school in El Paso, Texas, were gunned down on a Saturday afternoon on the way to visit relatives across the border in Juarez, Mexico. And unfortunately, we find violence here, close to home, in our own cities and towns, in Providence, where a week does not go by that there isn't a drive-by shooting, usually gang related, or some act of domestic violence as happened a week or so ago in Portsmouth.
If you commit to Junior Lasallian Youth, you commit to peacemaking in your hearts, in your families, among your classmates here in school, in your city or town, in this state, in our country, and in our world. You commit to not judging a group on the basis of a few; you commit to forgiveness and reconciliation; you commit to striking revenge from your thoughts. You are not too young—you CAN make a DIFFERENCE!!
If you say "Yes," you join the Lasallian Family of the world that is trying to do something to address the effects of violence—the opening of a new school for refugee children in Lebanon, the offer of a place for refugees to stay in Australia, the presence of a teacher training school and health clinic in the Sudan. You CAN make a DIFFERENCE as a Young Lasallian, through your Lasallian Family, even in distant lands!!
(De La Salle Brother with Syrian refugee)
I end with these words of Jean Debruyne:
May the day come when some words will be difficult for children to understand.
The children of India will ask: What is hunger?
The children of Alabama will ask: What is racial segregation?
The children of Hiroshima will ask: What is an atomic bomb?
And all kids in all the schools will ask: What is war?
And you will have to say to them: They are the names of things that have fallen into disuse such as stagecoaches, galleys or slavery. These words no longer mean anything and for that reason we have removed them from the dictionary.
Brother Frederick Mueller, FSC