(Prayer offered for the entire La Salle Academy educational community on Thursday morning, 17 December 2015)
Let us remember that we are in the holy presence of a loving God.
"Twas the Night Before Christmas"
or
"A Visit from St. Nicholas"
Rewritten by Voices Ink, LSA's creative writing club
T'was two days before Christmas break, when all through the Academy,
Ugly Christmas sweaters were worn for all to see.
Students were anticipating vacation, though still in good cheer,
Hoping Friday's dismissal bell they would soon hear.
The children were all sitting stiff in their chairs,
While their eyes glossed over into blank white stares.
Students and teachers alike wished that time would hasten.
As we prepared our brains for a much needed vacation.
When in the classrooms arose such a clatter.
Each teacher, confused, asked what was the matter.
"We can't wait for Christmas!" the students did shout.
"We want to spend time with our family and friends!" they cried out.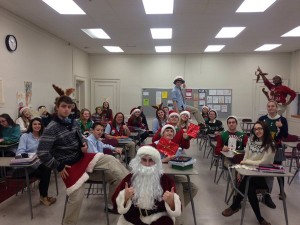 The face of each student gave off a glow
Awaiting the end of these two days they had to undergo
When, what to their waiting ears should they hear,
But a long and loud beep, following cheers from their peers.
Christmas spirit filled the halls, so lively and quick,
They knew that they'd be home faster than the sleigh of St. Nick.
They burst through the doors and into the parking lot, they came,
And with whistles and shouts, they left, all the same
"Now dash and now dance. Now, prance and now quicken!
On, students! On, teachers! Your warm houses beckon.
To the top of the stairs and right out the door
Now dash away! Dash away! And take no detour."
Students soon forgot that last period quiz or test,
Only thinking that soon they'd enjoy a good Winter's rest,
Keys in hand to their cars, it seemed as if they flew,
With hearts full of joy, and anticipation too.
And then, in a twinkling, I heard outside
The sweet, joyous voices of each little child.
Quickly, I realized I was alone, so I turned around,
Out the school I ran, as vacation came with a bound.
The world was covered in snow as far as the eye could see
And pine trees that glistened with ice surrounded me.
My eyes, still wide, were starting to roam,
For I was very excited during my drive home.
The flakes, how they twinkled! And the people- how merry!
Rushing about with their boxes, and pies full of berries.
My car rolled forward on the fresh, white snow,
While the street-lights lit up with a bright golden glow.
The winter cold made me shiver and chatter my teeth,
As I drove past houses adorned with nice wreaths.
At the corner stood Santa with a big, round belly,
Which shook as he laughed, like a bowlful of jelly!
He rang his bell as I dropped in some change
And my thoughts were stopped by this simple exchange.
I realized we may have forgotten the true Christmas meaning
It's not about wanting and getting, but giving and healing.
So, I dropped to my knees and decided to pray,
"Lord, send us peace," I started to say.
"Let us give to the needy and always show love,
And let us live like you. Like you, God, above."
Then I sprang to my feet, and made a split-second decision,
I grabbed my Christmas list and made some revisions.
No iPhone, no Xbox, and certainly no sled.
I'll give to those in our world who are most needy instead.
Reflection:
Let us pray…
Heavenly Father, please help us not to rush through this Advent season. Give us the patience to wait in joyful anticipation for the birth of your Son, Jesus Christ. Help us to remember the true meaning of Christmas and open our eyes and our hearts to the wonder and joy that surrounds us.
St. John Baptist de La Salle… Pray for us.
Live Jesus in Our Hearts… Forever.
Writers & Readers (2 stanzas each):
Amanda Foley- Writer, reader, and editor
Driany Galvao- Writer, reader, and editor
Ryan McWeeney- Writer
Annie Sheil- Writer
Jonathan Izzard- Writer and reader
Katie Friedemann- Reader
Annie Rogers- Reader
Chae McConaghy- Reader
Ms. Broccoli (1 stanza and reflection)- Writer, reader, and final editor
Ms. Frega- Reader