(Prayer offered on the Public Address system for the entire La Salle Academy educational community on Thursday morning, 4 February 2016—Catholic Schools Week)
Let us remember we are in the holy presence of a loving God
This past semester I was sent out on service every Wednesday to a Senior Center. I was
dreading going. My grandfather had just passed away and the last thing I wanted to do was be
surrounded by people that were near the end of their life. The day I met Lorraine was the day
my entire perception had changed. If there was anything I had learned from my grandfather's
passing it was that all he wanted was someone to talk to. He just wanted to ask me about my
day or how school was going. All the women at the senior center wanted the exact same thing.
This time, I was willing to listen. Lorraine was the first one to approach me at the center. For the
first 3 weeks every story was the same that concluded with "oh and by the way I have had 3
strokes so it is hard for me to remember things." After the third week she finally started to
remember me. She greeted me with a smile and a warm hug. I looked forward to hearing about
her stories every Wednesday. She always made me feel welcome. The one thing that stuck with
me and hasn't left me since was the conversation we had almost everyday. Lorraine would ask
"How are you" I would respond and reciprocate with the same question back to her. Her
response was always the same. "Well, I woke up this morning, so it must be a pretty good day."
If there was one thing I took from my experience at service it would be that sometimes I need to
take a step back and be grateful for the little things in life. Lorraine helped me realize this. This
Catholic Schools Week I think all of us as a community should reflect on the simple things in life.
Recall your blessings and be thankful.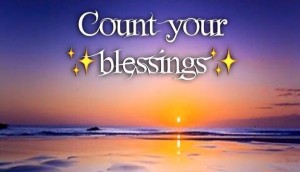 Let Us Pray,
Dear God, help us all to be thankful for the little things in life that you have blessed us with.
Watch over us and guide us towards a path of spending more time with the people who need us
most.
Allow us to make the most of the time we have with our loved ones and anyone whom we meet
each day.
Amen.
Saint John Baptist de La Salle…Pray for Us
Live Jesus in Our Hearts… Forever
Tayla Pingitore–Class of 2016