(Prayer offered on the Public Address system for the entire La Salle Academy educational community on Thursday morning, 25 February 2016—Poverty Week)
Let us remember we are in the Holy Presence of a loving God,
Mady: In the spirit of Poverty Week here at La Salle, the "Chicago 12" would like to tell you a little bit about our service trip. On Sunday February 14th we set off to the Brother David Darst Center on the Southside of Chicago. After plenty of games of catchphrase, obsessing over deep dish pizza, and an unexpected pit-stop to the Milwaukee airport we had no idea of the great week of service and learning that we were about to experience. Each day in Chicago challenged us to free our minds from stereotypes and to experience life in the moment.
Andrew: On Monday night, after dinner, we went to a men's homeless shelter called Cornerstone. After we had a chat with the person who runs it, Vince, we went inside and were immediately greeted by a man named Phil. Phil was, without a doubt, one person who left an impact on us all. He was an older man, around his late 50's/early 60's. Phil had something about him that was different from anyone else we met during our trip. We were told that, despite receiving many opportunities to escape homelessness, Phil did not want to leave the shelter because he loved "the boys" in the shelter so much; they were his family. He took a group of us over to his computer, and we went back and forth sharing information about the cities we lived in. He showed us different parts of Chicago on his computer, telling us which deep dish pizza place was his favorite and showing us the Chicago River dyed green for St. Patrick's Day. Phil's optimism and drive to learn stuck with us all, since most of us were awed by how positive someone who is experiencing homelessness could be.
Tayla: On Thursday afternoon we packed up the minivans and headed to a San Miguel school on the Southside of Chicago. There, we met a girl named Jenny who was in the 8th grade. She had given us a tour of the school and we all agreed at the conclusion of the tour that she had forced us to have a different outlook on being here at La Salle. We all never thought we would be so impacted by a 13 year old girl. She has probably faced more struggles and hardships in her 13 years of life than we as a group ever will. She and all the other students that attend the San Miguel School could choose to make no efforts in school. Jenny and many of the other students most likely have a million other things to worry about—like the fact that their 45 minute walk to school forces them to travel through heavily gang populated areas or sometimes they have to skip breakfast to get to school on time. Instead, they were fully engrossed in learning; they weren't "too cool for school" or afraid to try. They supported each other instead of making everything a competition. They genuinely wanted everyone to succeed. If they have the ability as middle schoolers to encourage and push one another, despite any other problems they may face on a day to day basis,  then why is it so hard for us to push each other? If they can build each other up, then so should we. At the San Miguel School on Thursday, Jesus was ever present in each child and faculty member in the community.
Allie: On our last day, just before leaving to return back to Rhode Island, we attended a gathering known as an "Immigration Vigil." We meditated while praying the rosary in three languages: English, Spanish, and (thanks to Luke O'Neill) Italian. At first, it seemed like we were all just standing outside in the cold and windy weather praying the rosary, but there was something more. We were there, outside the entrance to the Chicago Immigration and Customs Enforcement, to pray for all of those who were being deported and those being separated from their families. We met a man who, for more than a year, was in a deportation jail and was close to being forced out of Chicago, away from his family, and back to his original country. This man was not deported. The prayers were answered and had given him and his family hope.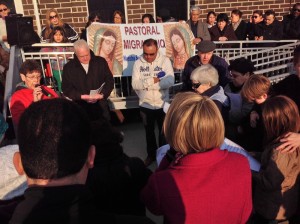 Let us pray…
Dear Lord, help us to see Jesus in everyone. Help us to remind each other that Jesus is in every single one of our brothers and sisters and to realize that we are called to help and love all of God's creations. As is written in the Gospel of Matthew, "'Amen, I say to you, whatever you did for one of these least brothers of mine, you did for me.'"
Saint John Baptist de La Salle…Pray for us.
Brother David Darst..Pray for us.
Mother McAuley… pray for us.
Live Jesus in our hearts…Forever.
Students from the Mission Service Trip to the Brother David Darst Center, Chicago IL—February Vacation 2016