(Prayer offered on the Public Address system for the entire La Salle Academy educational community on Tuesday morning, 2 February 2016—Catholic Schools Week)
Let us remember we are in the holy presence of God.
I would like to begin by not only thanking La Salle Academy for inviting me to participate in Catholic Schools Week, but by thanking the students, teachers, staff, and families that have supported Harry Kizirian Elementary School in Providence. You have most certainly touched the lives of students that are in need of positive role models and acts of kindness.
Twenty-five years have passed since I graduated La Salle Academy, but I will never forget all that I learned and all that I experienced in such a small window of time. My freshman year was actually spent at Classical High School. It was my first year in a public school and for the first time in my life, I felt like I didn't belong. I was just one student among another thousand students. My guidance counselor didn't know me and neither did my principal. I connected with the wrong friends, skipped classes, and would sometimes find myself leaving school early to hang out in the city. I was lost in the crowd. Public school was not for me.
I entered La Salle at the start of second semester during my sophomore year. While I knew enough to plead with my family to send me here, I still didn't know exactly how to get back on track. It was Mr. Leo Butler, my dean, who knew I needed guidance and support. He believed in me, even when I didn't. He held me accountable, when I was being irresponsible. He not only supported me, but he supported my family when they just didn't understand me. Mr. Butler continued to push me, even when I pushed back. I remember when I was first hired as a teacher in Providence. I made it a point to come back and visit Mr. Butler. It was important for me to show him that I turned out just fine. That I did make it through college, and that of all of the professions, I chose the teaching profession. Who would have thought that one day I would be working with inner city high school students just like I was!
I don't know what road I would have taken if I never had the opportunity to attend La Salle, but I do know that I am grateful that I will never have to find out. La Salle Academy is a community of faith, a community of knowledge, and a community of service. It has been all of these things for generations.
St. John Baptist de La Salle….Pray for us.
Live Jesus in our Hearts… Forever.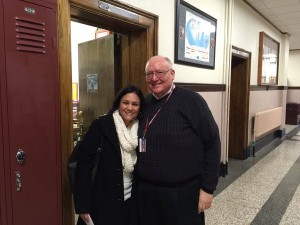 Dina Cerra–Class of 1991