(Prayer offered on the Public Address system for the entire La Salle Academy educational community on Wednesday morning, 21 September–the start of the International Lasallian Days for Peace [21 September-21 October 2016])
Let us remember that we are in the holy presence of a loving God.
Most people in the building know that I have two children–a ten year old daughter named Madeleine and a thirteen year old son named John.  Up until a couple of months ago, the hour I dreaded most was the time after school and  before dinner.  Everyone arrived home, hungry, tired, and cranky.  Inevitably, one of the kids would start a fight with the other—Why are you in my room? Did you drink all the milk? Are you talking to a girl?  I'd keep my distance and hold my breath.  As their voices got louder, eventually I would intervene and send each kid to his /her room until dinner.  And I hated intervening.  I hated being mom cop.  One afternoon, while this was happening, my husband nonchalantly suggested, "Why don't you let them work it out?" It was an aha moment for me.   All this time, because I didn't like conflict, I stepped in.  But this robbed both kids of the opportunity to negotiate, compromise, in short, work things out.
Today marks the beginning of the 10th annual International Lasallian Days for Peace—a month long peace awareness project that ends with all of us wearing white for peace on October 21.  Lasallians around the world will be participating through opportunities for prayer, study, and action.  The theme for this year is "Our Voices of Mercy are Calling for Peace."
As we think and pray about peace, it's important to remember that peace is not about the absence of conflict, but rather about the ways human beings can understand, reach out, and connect in the midst of disagreements and strife.  Pope Paul VI famously stated, "If we want peace, then we must work for justice."  And the Catholic church has long held the belief that together—charity and justice make up the two feet of Catholic Social Teaching.  Building peace requires difficult conversations, taking chances that one might be wrong, lots of patience, even more humility, and the ability to just listen.  Building peace requires work.
During this month, I'd like to challenge each of us in the La Salle Academy community, to seek peace by trying to dialogue and to reach out to those we may not understand well.   Perhaps it is stopping by the interfaith group or the diversity club and just listening.  Maybe it is getting to know what the work of Best Buddies entails or stepping out of one's comfort zone and going to Mary House on Mondays.  There will certainly be opportunities for this in campus ministry and in religion classes throughout the next month.
How will you build bridges, seek to understand, and listen attentively?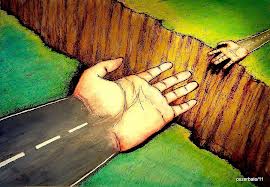 How will you build peace?
Let us pray:
God of all Love and Mercy
You want all of your children to live in joy and in abundance.
We pray in a special way for places in our Lasallian ministries
That are torn apart by violence and strife.
Give us the courage to be agents of your peace,
In our families, in our school, in our workplace.
Help us to put aside our desire to be right and
Instead give us the desire to understand.
Where there is hurt, conflict, and betrayal,
Help us to bring the balm of your mercy and healing.  Amen.
St. John Baptist de La Salle:  Pray for Us
Live Jesus in our Hearts: Forever!
Christine Estes–Director of Campus Ministry