(Prayer offered on the Public Address system for the entire La Salle Academy educational community on Tuesday morning, 10 January 2017–2nd day of Haiti Solidarity Week)
Let us remember that we are in the holy presence of a loving God
What is the first thing you think about when you hear the word Haiti? The Caribbean? The major earthquake in 2010? Hurricane Matthew? How it is a poor third world country? Yes, these facts are all true, but what most people don't know is the fact that it is the first black independent nation in the world and has a strong culture, beautiful beaches, amazing food, and bright and beautiful people. I traveled to Haiti this past summer and I experienced so much. I got to experience the fine beaches with the crystal clear water that allows you to see the ocean floor and aquatic life, the soft white sand and tall coconut trees The horizon can be seen at a very distance as well as the fleet of sailboats taxiing merchants from one end to the other.  It is common to have troubadour players drumming Haitian ballads at the beach.  It will not be a complete picture if I don't put emphasis on the various delicious seafood dishes whose fresh smell is very enticing.   The popular grilled conch served with fried plantains,  with a side of onions, tomatoes, lettuce and slices of juicy avocado are to die for.   
What truly amazes me to this day is the joy the children had making kites out of broken pieces of wood, string, and black plastic bags. I got to witness what truly makes Haiti a beautiful country: its people. The friendly people who greet you with a smile, the people willing to help who ever in need, the people who know they have less and make the best out of each day.  This is what truly makes Haiti beautiful. Though Haiti itself is a poor country, the people are rich in happiness and joy.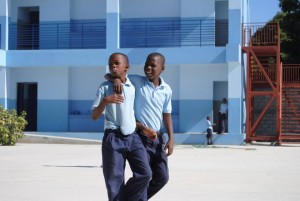 Let us pray:
God of all people,
This morning we pray for the people of Haiti.
Although they lack material wealth, there is much we can learn from their joy and their simplicity.
And help us all to work together so that all your children can enjoy the abundance this world has to offer.  Amen.
St. John Baptist de La Salle: Pray for Us.
Live Jesus in our Hearts: Forever!
Sara Gedeon–Class of 2018