(Prayer offered over the Public Address system for the entire La Salle Academy educational community on Friday morning, 3 February 2017—the 5th and final day of Catholic Schools Week)
Let us remember that we are in the Holy presence of a loving God:
Today marks the end of Catholic Schools Week.  Each morning, we have heard people reflect on what their Catholic, Lasallian education means to them.  This morning, I hope to do the same.
I'd like to start by telling you about Avery, Bella, Lux, Aria, Kendall, AaQuil, Yeilin, and Amit. These are the names of the beautiful children I got to spend each Wednesday with while out on service. I was fortunate enough to visit Beautiful Beginnings, on Elmwood Avenue in Providence for Christian Service. The first two times I went, I was uncomfortable. I felt a language barrier between the teachers and myself. I didn't get to connect with the children the first two times I went because I was put to work with infants, who couldn't speak or even walk. It wasn't until I visited my service site for the third time that I truly felt God's presence. I saw Avery playing with the kitchen set. It's tough to work with children who are unable to speak because they can't express their true feelings to you, but in this moment Avery's actions spoke louder than the words he couldn't speak. He turned around, saw me sit down in the play area and put on the biggest smile his tiny face could hold. He rushed towards me as fast as his tiny legs could crawl and just sat plopped down in the middle of my lap. I felt comfortable. The teachers were smiling.
The children ranged in age.  Lux was the youngest at 7 months old.  Aria was the oldest at almost a year and she spent most of the time trying to figure out how to walk around the room.   Each time I arrived, I would play with the children inside as I helped them stand on their own two feet and let their tiny fingers grasp onto mine. If the weather was shining, we would take them all outside to catch a break of a new scenery. It was planned perfectly that when it was time for me to head back to school, it was nap-time for the children at Beautiful Beginnings.
I learned different things about my myself each time I went out for service. I learned about true  patience when 6 children were all crying at the same time. I learned about my ability to stand up for myself, and not let a language barrier come between two people. I learned that it's okay to not always feel comfortable and welcomed, because God didn't create his whole world to be easy.  Lastly, I learned from the children around me.  I learned the value of compassion and appreciation. It was little things that made them smile, and it should be the little things that make us smile as well. They showed me that true happiness comes from the things in life shared with others. They showed me the beauty of giving and receiving love.  I grew to love those children and couldn't believe that 6 weeks before I had never met them. Love is a gift from God that is meant to be shared and received. During my time at Christian Service, I loved those children and through their actions I received love back. My message after finishing up my Christian Service experience is to be grateful with the life you have, use the ability of patience as life is not always easy, break down the barriers that stand in the way of you and another person, and love one another as they are your brothers and sisters. One act of kindness can be imprinted on another's soul forever.  I am grateful for the opportunity to serve that I was given as a member of the class of 2017 at La Salle Academy.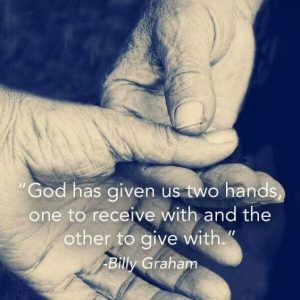 Let us Pray:
Dear God–Thank you for this Lasallian school community and for the gift of our Catholic education.  Keep our hearts and minds open to the lessons we can learn when we serve others.  And finally, help us to find the true happiness in the little things in life, just as my friends at Beautiful Beginnings helped me.  Guide us to see good all around us in the world as we strive to grow in patience.
Saint John Baptist de La Salle — Pray for us.
Live Jesus in our hearts — Forever.
Sydney DeCesare–Class of 2017