(Prayer offered on the Public Address system for the entire La Salle Academy educational community on Wednesday, 1 March 2017—Ash Wednesday)
Good morning, ladies and gentlemen.
Let us remember that we are in the holy presence of God.
Today the Christian churches celebrate Ash Wednesday, the start of Lent.
I recently heard a story of a little boy standing at the foot of an escalator in a large department store, never taking his eyes off the handrail as the escalator kept going up and down.  A salesperson saw him and asked if he was lost.  He said, "Nope.  I'm just waiting for my chewing gum to come back."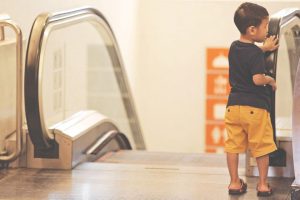 That's hope!
We all face difficulties in life—sometimes we feel as if we are knee-deep in problems.  We can't just pretend that the pain and hurt aren't there.  However, we can envelop ourselves in hope.  Hope gives us the power of perseverance.  With hope we can nourish the conviction that the hurts will eventually be healed and the difficulties overcome.
So, Brother, what does hope have to do with Ash Wednesday and Lent?  Today as we receive ashes, we are reminded that there is indeed pain and sorrow in life—"remember that you are dust and to dust you will return"—we are, all of us, after all, human beings.  However, Lenten prayer and fasting and almsgiving (giving of ourselves to those in need) help us to believe that the Lenten ashes are signs of hope.  The cross made of ashes on our foreheads reminds us that Jesus loves us, loves us so much that he died on a cross for us and then was raised from the dead, as we will be raised.  Jesus gives us hope!
Although the ashen cross will disappear from your forehead this evening (if not before), I suggest that each day during Lent, when you look into the mirror in the morning, you see the image of the cross on your forehead and remember that Jesus offers you hope for that day.  Let him set you free from all that keeps you from growth and joy and, as you throw water on your face, like the waters of baptism, start the journey of your day believing that Jesus is with you, always guiding you and loving you.  Like the piece of gum on the escalator railing, Jesus is never far away, always returning to us, always saving us—we just have to wait for him in hope!
Let us pray:
Lord Jesus, we believe that you are always present to us, listening to us, waiting for us to return to you.  During this Lenten season help us to pray, to fast, and to be giving persons so that our hearts might be open to your unconditional love for us. AMEN.
Saint John Baptist de La Salle…pray for us.
Live Jesus in our hearts…forever.
Brother Frederick Mueller