(Prayer offered on the Public Address system for the entire La Salle Academy educational community on Thursday morning, 30 March 2017)
Let us remember, that we are in the holy presence of God.
In my classroom there is a statue of the Blessed Mother Mary that I've had for a couple of decades that my students have probably seen. Sometimes when writing on the board, it falls off. One time when it fell about 10 years ago I looked at it and the hands were missing! I looked all over the floor and couldn't find them. It struck me at that moment that I was getting a message from God and His Mother that my students and I were supposed to be those hands –doing God's work in the world. I know that sounds corny, but I have definitely seen students acting as the hands of God's work on Earth.
It's evident in all of the service organizations, but one can also use any moment of any day to be God's hands in the world. As it says in the 1st letter of Peter, "As each has received a gift, use it to serve one another, as good stewards of God's varied grace."
A good example of this is a story that my son sent me about Je'rod Cherry, former safety for the Patriots. He happened to be at a youth event with his wife and saw a movie about an underprivileged boy who was on the verge of starvation and it struck him hard that he was throwing food away while children just like his own four were struggling to live. Je'rod had become a special-teams player for the Patriots in 2001, just in time to win three rings in four years and, ultimately, to show up at that conference and declare himself ready to do something useful with the most important ring to him – the 2001 ring. He had no clue he was walking into a day that would inspire him to raffle his ring to protect two dozen orphans in Thailand from the scourge of extreme poverty, drugs, sex trafficking and childhoods without an education, as well as helping other children in Kenya, as we are doing with the Rice Bowl.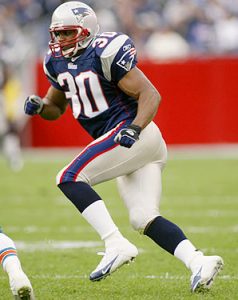 None of us has a Super Bowl ring to donate, but we all get opportunities to do selfless acts and to do something really worthwhile in our lives. God guides us to be in just the right place at the right time- but we have to take the first step to agree to be the hands of Christ and His Mother, Mary, in the world.
Let us pray.
Lord, help us to feel the pain of those in poverty so that we can rise to a life of joy-filled, unselfish service. In Acts 20 vs. 35 it says "In all things I have shown you that by working hard in this way we must help the weak, and remember the words of the Lord Jesus, how He himself said, 'It is more blessed to give than to receive.'" Let's get going-it's time to lend our hands!
St. John Baptist de La Salle, pray for us.
Live, Jesus, in our hearts, forever.
Leslie Martinelli–Science Teacher