(Prayer offered on the Public Address system for the entire La Salle Academy educational community on Friday morning, 7 April 2017)
Let us remember that we are in the Holy presence of God
"If anyone's will is to do God's will, he will know whether the teaching is from God or whether I am speaking on my own authority".  John 7:17
Today, the Catholic Church celebrates the feast day of our Founder, St. John Baptist de La Salle, the patron saint of Catholic Education.  The Institute that he founded in Reims, France in the late 17th Century, The Brothers of the Christian Schools, is now assisted by more than 100,000 lay colleagues and teaches over 1,000,000 students in 80 countries in the world today.
As a lay colleague in this shared mission, I am often amazed to be part of such a significant global movement.  I am humbled to offer some words of reflection on our Founder's feast day.
When I began to reflect on what I might say, inspiration came from an unusual place.  On the side of the glass milk bottle we have delivered to our house it says, "They came for a visit not to stay."  This saying is true of all of us as we were sent by God to visit during our human existence and then return to God.  The question then becomes "What do we do on our visit?"
St. John Baptist de La Salle was a man who continually prayed to God to answer that question in his life, i.e. what God wished him do on his earthly visit.  The answer was not easy for him as it moved him out of a comfortable and privileged life and would win him some true "Brothers" and some serious opposition.
The answer for him came in two parts.  The first part was most likely obvious to a man who felt a call to the priesthood at an early age.  The idea that God's salvation is the greatest gift that anyone can ever receive would be clear to him.  The second, that a human and Christian education was essential for the young men entrusted to his care, most especially the poor and marginalized, came to him gradually and led him to commit more and more of himself to what became his life's endeavor.
This idea that education can lead to salvation was not universally accepted and many in power in De La Salle's time and even some in power now deny education to some for their own selfish ends.
Early in his priesthood De La Salle was invited to assist in opening a school for the poor boys of his hometown— Reims, France.  As he came to see what was needed in the schools, he also came to see that these young boys had very little understanding of God's love in their lives.  He saw that they either had very busy and absentee parents or no parents, and thus they were unable to provide the time and education for their children necessary to understand God's salvation.  Thus, he came to see that a truly Christian school must teach skills that allow students to obtain meaningful work and provide the students the time for the prayer and reflection needed to ascertain God's plan for salvation.  So, De La Salle focused his schools on places where practical skills were taught and prayer was constant.
This pragmatic approach to education led him to become a true innovator in his educational approach.  Yet, perhaps the most important element of his method is that he knew he could not do it alone.  He knew he needed other men to be his "Brothers" in his work.  He also truly understood that the work he was embarking on was not his own but God's work.
Truly this was a man who made the best of his visit.  He poured himself into God's work.  And even though the work was not always easy and the path not always clear St. John Baptist de La Salle and his Brothers trusted the will of God and have driven forth this mission that continues 298 year past the end of his own life.
We at La Salle are able to see his work in action and reminders about his life are ever present.  My favorite reminder is in the cafeteria where his last words are written in the center of the cafeteria— "In all things, I adore the will of God in my regard."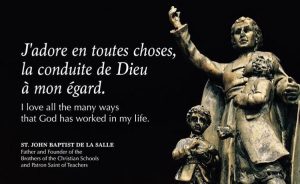 Let us pray…
Loving God, let us be inspired to make the most of our visit here on earth.   Let us listen to your will in our lives and have the courage to live it.  Amen.
St. John Baptist de La Salle … pray for us.
Live Jesus in our hearts … forever!
Timothy Donovan–Social Studies Teacher