(Prayer offered on the Public Address system for the entire La Salle Academy educational community on Thursday morning, 13 April 2017)
Good morning La Salle!
Let us remember we are in the holy presence of God.
Six weeks ago, you may have been one of the many Lasallians roaming these halls with a mark of ashes on your forehead. It was, of course, Ash Wednesday, the day marking the beginning of the season of Lent. In the time since then, perhaps you have been focused on making small acts of penance, in imitation of Jesus' 40 days in the desert.
Fast forward to today, Holy Thursday. This evening we will commemorate Jesus' last meal with His closest friends and recall His betrayal by one of them. Tomorrow, Good Friday, we will commemorate Jesus' death, when He was paraded through the streets of Jerusalem and nailed to a cross. And Saturday, Holy Saturday, we will recall the desolation that Jesus' disciples felt as their friend, their Messiah, their God, lay dead and buried in a tomb.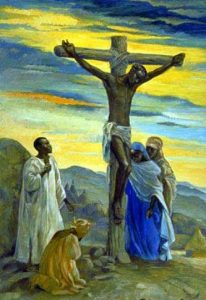 By the sound of it, our faith is a rather gloomy one – penance, betrayal, death, desolation. And if this were the sum and substance of our faith, you could not be faulted for the thought. But the truth is we are an Easter people—a people for whom Christ's suffering and death only make sense in the light of His resurrection, a people whose individual suffering only makes sense in the promise of eternal life. St. Paul said much the same to the Corinthians: "…If Christ has not been raised," he told them, "then empty is our preaching; empty, too, your faith."
In short, we are a people of life, not of death. A people of joy, not of sorrow. We are not the classroom full of tired students in the middle of March, but the room full of exuberant Lasallians filled with joy at the sound of the bell signaling April Break. But don't take my word for it. Jesus Himself told his disciples why He came, and why He ultimately gave His life for us:
"Amen, amen, I say to you, I am the gate for the sheep…I came so that they might have life and have it more abundantly."
And again, in His farewell to His disciples, "I have told you this so that my joy may be in you, and your joy may be complete."
How appropriate, then, that our joy and excitement at the prospect of a week of rest coincides with the celebration of Easter on Sunday. So go ahead, be joyful. Be joyful that you have just a half-day of school today. Be joyful that a week-long Break awaits you on the other side of 12:00. Be joyful that our God is a God who bore the weight of our sins unto death so that we might have eternal life. Be joyful, because that is who you are called to be.
Let us pray.
Father, we thank you for the blessing of Your Son – His life, death, and resurrection. We thank You for the gifts of family, friends, and our Lasallian community and all the little joys that come our way each day.
St. John Baptist de la Salle…pray for us.
Live Jesus in our Hearts…forever.
Brian Bennett–Religion Teacher