(Prayer offered on the Public Address system for the entire La Salle Academy educational community on Monday morning, 22 May 2017)
Let us remember we are in the holy presence of a loving God.
Every Freshman Spirit Orientation Day, Mr. McGinn teaches incoming freshmen  about the legends of La Salle, saying that if the walls of 612 Academy Ave. could talk, they would tell tales of those who made the most of their experience here at La Salle. Of more practical importance, however, Mr. McGinn guided me on our first official tour of La Salle, teaching me to navigate the Lasallian Labyrinth.  I can imagine that many of us were intimidated by the sheer size of La Salle and wondered how we could possibly find our way each morning.  That day I vowed to take a walk through La Salle each morning until I knew the layout of the school like the back of my hand. To this very day, I continue this tradition and I would like to take you on my daily tour of La Salle this morning.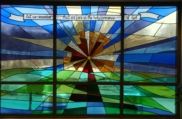 Each morning, my walk begins just outside of Campus Ministry. It is when I stand outside of Campus Ministry that I am reminded of La Salle's purpose.  La Salle Academy is surely an excellent institution that prepares students with the skills necessary to succeed in life.  More importantly, however, La Salle teaches us to live lives of service to each other.  It is in Campus Ministry that we recall  "we are in the presence of a loving God" 5,040 times over the course of four years. Photos of students doing good in our local community or on service trips remind us of the incredible acts of charity many of our student body have already participated in, as well as the future philanthropic works in the years to come. Campus Ministry serves as a reminder of our mission at La Salle, and how we have not only nourished our minds with knowledge but have cultivated the seeds of charity.
If one takes a left at the top of the second floor of the Science Building, he or she will  face a magnificently large window overlooking Cimini Stadium, Cronin Fields and the Mac. When one overlooks these facilities it reminds us of the determination La Salle has instilled in us, both on and off the field. High school can be a challenging time, and every one of us has experienced one of the unglamorous nights of cramming for a test or finishing a paper late in the evening.  La Salle precipitates the determination that is necessary for success in the world beyond. The fields remind us of those wonderful memories shared as a community, whether in the Beehive or field.  Those fields remind us of our times together, with "heads held high with one desire" and the collective determination it takes to succeed.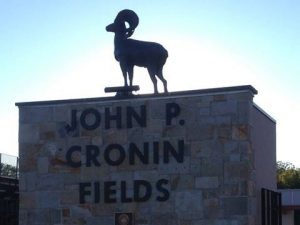 It is almost impossible to walk into La Salle in the morning and not be greeted by a teacher. It is those greetings that remind us of the dedication the faculty and staff have for us, the students of La Salle. The teachers of La Salle have made us into the people we are today. Although there may have been  times during which the coursework seemed overwhelming, they forced us to grow as individuals. Many teachers have been available before or after school to ensure their students' success, and it is that sacrifice of time and energy that reminds us of the great gratitude that we should have for our teachers. As we walk through the halls each morning we recognize how grateful we are for your service, because through your efforts we have been educated in both mind and spirit.
By now, my tour of La Salle has reached the ground floor. As many of us walk by each and every day we hear music emerging from the band room and we gaze at the magnificent works of art constructed in our studios. Regardless of whether one is able to draw an accurate self portrait or not, I believe that we can all agree that La Salle has made us into more expressive human beings. Perhaps it is because we are just freshman on our first day of school, but through our time here we have matured and become the people we aspired to be. We have been educated at La Salle, not indoctrinated, and it is here that we have become capable of conveying our thoughts and values in our works of art or for many of us, simply  in the discussions we have each day.
By now, there is a crescendo of chatter that has emerged from the building and the silence of early morning develops into excited conversation. As each student enters the building, our building comes alive. Although our teachers are superb and our facilities stately, La Salle would be nothing without its students.  All of us, from the sixth grader at De La Salle to my fellow seniors, have become a central part of the Lasallian community. Seniors in particular have seen themselves develop from timid freshman into empowered seniors ready to face the world beyond.  To every underclassmen, no matter how many years until your graduation you will find this change in yourself as well.  We should be proud of our accomplishments because we have embodied what St. John Baptist de La Salle sought in his students, young men and women who seek to live lives of service to each other.
My daily tour of La Salle ends where my first tour began: at the Hall of Fame. When I was a freshmen it seemed almost impossible to visualize graduation; the finish line seemed simply too distant. Now only 17 days until graduation, I along with the class of 2017 have found ourselves become part of that very legacy.  To the class of 2017—when the last school bell rings tomorrow..Don't be late.  Our future lies ahead.
Let us pray. We can trace a common heritage here and no matter what walk of life we pursue years from now, we will always remember the lessons we learned both in and out of the classroom.  Today we pray especially for the guides in our lives (in my own life, my first tour guide at La Salle, Mr. McGinn) and all of the faculty and administration here at La Salle. Most especially let us pray for every student at La Salle, no matter where we may be on our journey.  Let us make every morning, even the seemingly most mundane and ordinary, a distinctive memory that will be etched into our minds. When we leave these hallowed halls, let us be sure that, if the walls of 612  Academy Ave. could talk, our legacy will be  remembered by our kindness, our dedication, and our love for this absolutely tremendous community.
Saint John Baptist de La Salle. Pray for us.
Live Jesus in our hearts. Forever.
John Larsen–Class of 2017