(Prayer offered on the Public Address system for the entire La Salle Academy educational community on Thursday morning, 25 May 2017)
Good morning La Salle!
Let us remember we are in the holy presence of God.
Today is Ascension Thursday, the day the Church gathers to commemorate Jesus' return to His Father 40 days after His Resurrection on Easter. Of all mornings, it may seem particularly confounding that this morning we are being asked to remember that we are "in the holy presence of God." After all, are we not commemorating Jesus' return to Heaven? And so, in a way, aren't we celebrating not God's presence but his very absence from our lives?
In fact, this was the very fear that Jesus' disciples faced on Good Friday: Their leader having died, so too, they must have thought, everything that they believed in.
And yet, in the scripture readings at Mass this morning, we will encounter a group of disciples transformed by the Resurrection…disciples not only filled with faith but who were soon willing to go to the ends of the Earth to preach and to die for that faith. And, importantly, we will also hear of Jesus' promise to send His Holy Spirit upon his disciples…the very "holy presence of God" Whom you and I are asked to recall each morning and each afternoon at the start of prayer.
It was the Holy Spirit Who guided a young Fr. John Baptist de La Salle to shed his comfortable, upper-class life so that he might give himself over entirely to the education of the poor. And fifty years ago, it was the same Spirit Who guided two young men to follow in John Baptist's footsteps. Their names were Thomas Gerrow and Frederick Mueller. We know them today as Brother Tom and Brother Fred. And for 50 years they have committed their lives to the mission and legacy of St. John Baptist de La Salle.
This morning at Mass, we will have the privilege of witnessing Brother Tom's and Brother Fred's renewal of their vows to the Brothers of the Christian Schools. If you happen to see Brother Fred or Brother Tom in the halls today, perhaps you could pass along your congratulations and a 'thank you' for their lives of service. But I wonder if the best tribute you and I could pay to them would be to spend 5 minutes in the quiet of prayer asking Jesus how His Spirit is at work in our lives today. And no, He may not be calling us today to make the radical, life-altering commitment exemplified by Brother Tom and Brother Fred. But He may be calling us to say a kind word to a classmate or to a colleague who needs it. And that is a great place to start.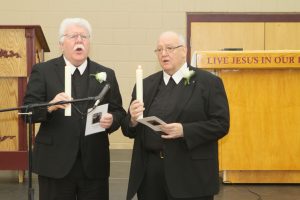 Let us pray.
Jesus, You once said to Your disciples: "Amen, amen, I say to you, whoever believes in me will do the works that I do, and will do greater ones than these." May we, the community of La Salle, not be so timid as to think that perhaps, when you said this, You did not have us in mind.
St. John Baptist de La Salle…pray for us.
Live Jesus in our hearts…forever.
Brian Bennett–Religion Teacher