(Prayer offered on the Public Address system for the entire La Salle Academy educational community on Thursday morning, 28 September 2017)
Let us Remember that we are in the Holy Presence of God.
A long time ago, in a galaxy far far away, or the late nineteen seventies, I locked my infant son in my car. My husband was a Navy submarine sailor and had spent his duty overnight on the boat. We had one car and I needed to pick him up. So at 5:30 am, I put my son in his infant seat and went out to the car.  I opened the door, threw my keys, purse, and diaper bag, on the floor and buckled the seat in. Then I pushed down the manual door lock (1970's remember), held the handle, and closed the door. Walked around to the driver's side only to realize that that door was also locked. And my keys were on the floor. Panic. Can't get back into my house to make a phone call and poor Jay is crying. More than a bit hysterical, I run to my neighbor's house, yep, at 5:30 in the morning, and ask them to call the police. I run back to the car and am crying harder than my son as I stare at him through the window. My neighbor is not nice. She comes outside and begins to berate me for waking her up and then moves on to the topic of my fitness as a mother. And as any new parent can attest this kind of judgement is painful.
Fast forward some months later, again going on an outing, carrying all manner of baby paraphernalia when I trip. I instinctively put my hands out to break my fall and in the process dropped my son. He slid along the cement walk and had scrapes along his head and bare legs. I felt my neighbor watching as the two of us, both bleeding and crying, headed to the emergency room. Once there, when I provided the details of the accident, I could see the judgement in the eyes of the navy corpsman and doctor. Those judgements still bother me, 40 years later.
Our  negative opinions of others inflict pain, damage relationships, and cause conflict.  We judge others by their body type, skin color, spoken language, political opinions, religion, gender, socioeconomic status, and really, just about everything else. And we need to stop. Seriously. Just stop.
Our families, our communities, and our planet need us to be peacemakers in the world. Everyone has a right to live their own life; we don't know their stories, their struggles, their pain. It's not up to us to judge their choices. Besides, being judgmental takes up a significant portion of our time—time that honestly would  be better spent reflecting on our own behaviors, figuring out our own life path, and most importantly, learning how to accept others.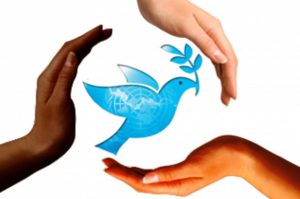 Let us pray…
Forgive me, Lord,
When I don't listen
When I think
I know more than I do
and I do more harm than I'll ever know.
Help me to be patient
to consider my attitudes
my thoughts
my actions.
Help me to understand
your call to serve
without judging
those I am serving.
Amen
St. John Baptist de La Salle…Pray for Us
Live Jesus in our hearts…Forever
Kristine Chapman–Social Studies Teacher