(Prayer offered on the Public Address system for the entire La Salle Academy educational community on Thursday, 2 November 2017)
Good morning, ladies and gentlemen.
Let us remember that we are in the holy presence of God.
Today, All Souls' Day, the Catholic Church remembers in prayer all those who have died.  In the Chapel of the Brothers' Community is a book containing the names of beloved deceased given to us to pray for during this month of November by families, faculty, friends and alums of La Salle Academy.  Last Tuesday evening as I wrote out my list I did not simply print their names.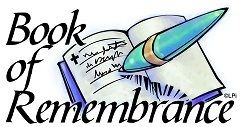 As I wrote my mom's name I remembered her last day of life—how she called me to her bedside, held her two weakened hands around my chin and cheeks (as she had done when I was a child, bending down to me, and later on as I grew taller and older stretching up to reach my face).  She pulled me close to her and whispered that each day of my life had been a special blessing for her.  Although that happened almost 34 years ago I relived that memory last Tuesday evening as if it were yesterday.
So too I remembered my dad—a strong, tough man, a World War II vet, a steel worker, a weightlifter into his 70's—I remembered how, from my youngest days, heading off for bed, he would plant a gentle kiss on my forehead and sign it with the sign of the cross with his rough thumb.  He did this the last time I saw him alive, as he had done every time we parted—a few days before his sudden death saying Goodbye not knowing it would be our last.
I remembered my Auntie Rita, married, but with no kids of her own.  How she loved amusement rides and the Red Sox and French fries!  She never denied that I was her favorite and on those days when I visited her as a young kid she shared with me her love of those things—and they became the things I liked and still like.  She spent 8 years in a nursing home after the death of her husband and one Christmas Day a few years ago I spent the morning with her at her bedside, holding her hand until it became cold and she breathed her last.  It was the least I could do to return the favors she had shown me!
And Mrs. Ann Morsilli, my colleague, dance partner and our dance teacher—how I remember those jitterbugs and cha-chas with her in her 5 inch spiked heels, never tiring, full of exuberance and life!
And so many more!
Why don't you close your eyes now for a moment and picture someone who is gone from your life.  Listen closely for their voice, for their quiet giggle or boisterous laugh; smell the unique fragrance of their perfume or after shave, the aroma of chocolate chip cookies baking in their kitchen or the smell of fresh cut wood in their workplace; feel their gentle kiss and tender touch or their firm handshake and crushing hug.  In some mysterious way they are present; in faith we believe that they have passed from this life to another but still they care for us and they love us, and now they intercede before God for us—asking Him to welcome us gently when our time comes.
I ask you tonight to turn off your i phone or cell, your computer and TV and other electronic devices just before you go to bed and remember them, remember those who have loved you and cared for you and made you the person you now are today.  Allow their memories to flood your mind and your heart.  There may be a moment of grief but there will be many more moments of gratitude.  And not just tonight!  How about during the rest of this month of All Souls—remember them, pray for them, and ask them to pray for you.
Let us conclude with a prayer taken from the Judaic tradition—one of my favorite prayers:
In the rising of the sun and in its going down, we remember them.
In the blowing of the wind and in the chill of winter, we remember them.
In the opening of buds and in the rebirth of spring, we remember them.
In the blueness of the sky and in the warmth of summer, we remember them.
In the rustling of leaves and in the beauty of autumn, we remember them.
In the beginning of the year and when it ends, we remember them.
When we are weary and in need of strength, we remember them.
When we are lost and sick at heart, we remember them.
When we have joys we yearn to share, we remember them.
So long as we live, they too shall live, for they are now a part of us, as we remember them.  Amen.
Saint John Baptist de La Salle…pray for us.
Live Jesus in our hearts…forever.
Brother Frederick Mueller, FSC