(Prayer offered on the Public Address system for the entire La Salle Academy educational community on Thursday, 14 December 2017)
Let us remember that we are in the holy presence of God
Have you ever been consumed by waiting? You know the kind of waiting that persists, where time stands still and silent no matter what you do?   Maybe you feel this way as you wait for the start of Christmas break?
To date, my most profound experience with waiting was when my husband was deployed to the Middle East as a major in the Army Reserves in 2006.  He was stationed there for fourteen months.  We had two young children at the time and each day during these fourteen months seemed an eternity.  Normal tasks like grocery shopping or doing laundry were drudgery.  Even more difficult were the "big days,"  our wedding anniversary, my daughter's first birthday, Christmas.  Thank goodness we had plenty of family support and eventually one day became one month.  And soon, we strung months together to arrive at fourteen months.
I'll never forget the day of my husband's homecoming—seeing him arrive in the gate at the airport, the sight of my two toddlers clinging to their dad's legs.  The months that followed were marked by wonder, awe, appreciation.  Just being able to sit, have a conversation or share a meal with my husband felt like such a blessing,  It was as if we were given a brand new beginning.
This Advent and every Advent, we are called to this kind of holy waiting.  In return for this, we are promised God's unconditional love in the most surprising, most irrational of all places…..a poor crib.  After the wait, comes the promise of grace.  After the longing, comes the beauty of seeing the world anew.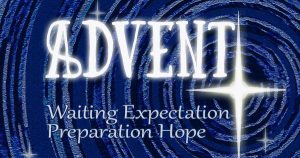 In the Advent words of the prophet Isaiah, "the glory of the Lord will be revealed and all the people will see it together." (40: 5)  In that day, "the wolf will live with the lamb, the leopard will lie down with the goat," "the earth will be filled with the knowledge of the Lord," and "a little child shall lead them."
Let us pray:
Dear God, source of all goodness, bless our waiting.  Give us pause amid the frantic pace so that we may really see in unexpected people and places.  Give us new eyes.
This Christmas, as we fix our eyes on the baby Jesus and the holy family, help us to see all the holy families in our midst.
We pray all of this in the name of your son, and our brother, Jesus.  Amen.
St. John Baptist de La Salle:  Pray for us
Live Jesus in our Hearts: Forever.
Christine Estes–Director of Campus Ministry