(Prayer offered on the Public Address system for the entire La Salle Academy educational community on Friday morning, 26 January 2018)
Let us remember that we are in the Holy presence of God…
Like Mr. Pare in his prayer yesterday, I too have been contemplating the simple things in life. When I was dating my husband, one of our favorite things to do was to take a picnic to Balboa Park in San Diego and watch the airplanes fly over, so close you felt you could touch them, so close the ground vibrated, so noisy I'm sure I damaged my hearing.  Something so simple created such memorable moments that I remember them 40 years later. Too bad I couldn't hold onto simple.
I just threw 8 VCRs into a giant dumpster parked in my driveway. We filled a 20 yard dumpster in three hours. How does one family of five accrue three tons of garbage? The items in that dumpster used to be our possessions and at some point had meaning to us. But no longer. The question I keep asking myself is how much is enough?  I don't actually have the answer to that question, owning all the latest electronics and a closet full of clothes most of which I don't wear. But I'm trying. I'm downsizing my life, my home, but sadly not my waistline although there is still time for that.
The great African American poet, Maya Angelou wrote that home is where your feet are. So my life's memories are with me, not with my possessions and not in the dumpster. Who I am is not what I own.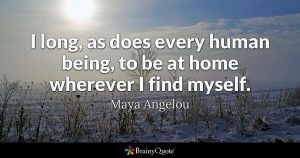 Dishes I once thought so necessary, that tied me to fun family dinners and parties will now be part of someone's else's life.
Hundreds of books will be donated and recycled. their stories in my heart and readily available in a library when I want to read them again.
Old sheets, towels, and blankets went to Savers'  "Give a Shirt about the Earth" program.
Nice, but unwanted, furniture went to good homes where families will love them as I once did.
And I still filled a dumpster.
I am not alone. In 1984 there were 6,600 self storage facilities across the US. By 2010 there were 46,000. Clearly we need places to store our stuff. But if it's locked away in a storage unit, attic, basement, garage, or shed, do we need to keep it? Honestly, did we need it in the first place?
I challenge everyone to ponder the stuff in your life. It's ok to have things we want, but if we allow our wants to control us we miss out on the real pleasures in life like the wonder and power of a landing airplane.
Dear God
May I be reminded frequently that whatever form my attempts at simplicity may take that it is a simple heart which You first and foremost desire. Help me to remember what it is I truly need. May I approach You and all human beings with a free and unencumbered heart.
Amen
St. John Baptist de La Salle…Pray for us.
Live Jesus in our hearts…Forever.
Kristine Chapman—Social Studies Teacher