(Prayer offered on the Public Address system for the entire La Salle Academy educational community on Friday morning, 2 February 2018—Catholic Schools Week)
Let us remember that we are in the holy presence of God.
A few weeks ago, while doing my weekly grocery shopping, I saw an elderly man in a wheelchair trying to reach a can of soup that was just out of his reach. After watching him struggle for a moment I approached him and asked if I could help. He said yes, so I handed him the can that he was reaching for. He turned to thank me and noticed that I was wearing a La Salle hoodie. "Ah, La Salle Academy!" he said. "I should have known. Graduates from La Salle always go far in life."
What the old man didn't know is that, geographically speaking, I haven't gone very far at all. I spent six years as a student here at La Salle, and after going off to college, I came right back here to be a teacher. It was never a secret that I wanted to return here to teach – I had barely graduated when I started wondering if there would be an opening in the math department by the time I finished grad school.
What called me back here wasn't just the quality of the education that I had experienced first hand. It was about the people I had met and relationships I had built that made La Salle feel like my home. When I walk by Mr. McNamara's calculus class or Mrs. Chapman's psychology class, I see students sitting in the same seats that I sat in – and I know that they are learning so much more than the content in their textbooks. They're learning the values that make them Lasallians.  I know this because I learned those values as a student myself, but also because I see those values today, and every day as a teacher. I saw charity and generosity when my homeroom brought trash bags filled to the brim with adopt-a-family donations. I saw love and acceptance when students spent last weekend on a Kairos retreat. I saw kindness and support offered to someone who recently lost a loved one.
The old man in the canned-good aisle at Shaw's may have thought I was going far, but to me, the opportunity to go far, and to see and do great things, happens every day when I walk into this building.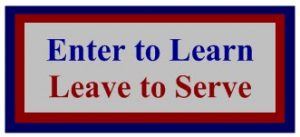 Let Us Pray:
God, thank you for the many gifts that we receive here at La Salle – the high quality education present in our classrooms, the meaningful relationships that are developed, and values of generosity and love that are witnessed here every day. Continue to bless all those who enter this building so that they can go out into the world with the knowledge they have gained here, whether they travel far away or return right back here to be within these walls.
Saint John Baptist de La Salle, Pray for Us
Live Jesus in Our Hearts, Forever
Kathryn Thompson–Alumna (Class of 2010) and Teacher of Mathematics and Computer Science