(Prayer offered on the Public Address system for the entire La Salle Academy educational community on Wednesday morning, 5 September 2018)
Welcome to the new school year at La Salle Academy, Everyone.
Let us remember that we are in the Holy Presence of a Loving God.
I don't know how you feel about the beach, but I love the beach, especially Matunuck Beach where the waves crash in on sand and rocks changing everyday due to the action of the waves.  Sometimes it's almost all sand; most times the beach is lots of rocks with bits of sand leading to the line where the waves break.
My parents started going to Roy Carpenter's Beach in Matunuck back in the 1930's when they would literally camp in tents within a hundred yards of the water.  Next, people started bringing in small trailers and eventually built small houses – 20 feet by 20 feet in most cases.  Water still comes from a shallow well attached to each house via a pump and black plastic pipe and restrooms are outhouses with flush toilets.
Growing up, we went to the beach on the weekend after school got out in June and we stayed there until Labor Day, when we headed back to Providence for the Wednesday start of school.   That's why today is such a day of remembering for me.  When we headed to the beach in June, all seven of us children had to bring ten books each from the Providence Public Library.  We traveled in what in those days was called a "Beach Wagon."   Today that would be just a little bigger than a Subaru Outback; Volkswagen Golf SportWagen; – but in my family the car had to be a FORD and it had to be at least 8 years old before we purchased it.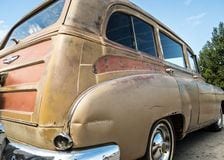 Now that you have the general background for my beach experience, here is what I would like to share with you.  Swimming at Roy Carpenter's Beach was all about playing a game with the waves.  We called it MUCKLE.  The name of the game has been handed down through generations of kids.  And it involves DIVING IN and rolling with the waves as they break and attempting not to be thrown onto the sand or the rocks, just slipping under the waves as they break and letting the undertow pull you into the breaking wave.
I was never afraid of the water. I grew up with these waves and we loved it when the water was rough enough for the lifeguards to put up the "red flags" on the lifeguard chairs, which meant you had to swim between the lifeguard chairs so they could keep tabs on everybody.
Well, a couple of years ago we were at the beach and the water was quite rough and getting rougher.  We heard that the lifeguards were considering closing the beach, which meant they would be putting up the "black flags" on the lifeguard chairs.  One of my brothers, my nephew, and I decided it would be a good idea to run to the water and DIVE IN before the lifeguards closed the beach.  Never wanting to miss the big waves, that's exactly what we did.  I can tell you today that this was not a good decision!  Not only were the waves 8 – 12 feet high but the undertow was wickedly strong.  After just a few minutes we knew we had to attempt to get out, hopefully without getting MUCKLED. We  all did get out, as the "black flags" were waving in the strong wind.  I'll never forget the feeling that day in my heart. I knew it was going to be a real challenge to get out of the water, to the safety of our towels.  How foolish we were to DIVE IN without really checking out how bad the water really was.
This reminds me of a story about a man, we'll call him John, whose house was in a very bad flood zone and the water was rising quite quickly.  He moved to the 2nd floor and then onto the roof and waited.  The firemen came by in a rescue boat and offered to take him off the roof and he said, "No thank you, God will provide. I'm not worried".
A bit later another small rescue boat came by him and offered him safety.  He again said, "No thank you, God will provide. I'm not worried".  Finally, a helicopter hovered above him and through a megaphone they offered to lift him to safety.  Again he said, "No thank you, God will provide."
Well sure enough, the water continued to rise and the man drowned.  When he arrived at the gates of Heaven he yelled past St. Peter, and said, "Lord, Lord, why did you not save me?  I trusted you and you failed me."
The Lord then said, "John, I sent two rescue boats and a rescue helicopter to save you and you turned down each one when you had the chance to be saved.  I tried to help you but you wouldn't listen".
Now, as we begin a new school year at La Salle Academy, let's all DIVE IN as students, as teachers, as secretaries, as staff—in academics, or participation in the theater, clubs, athletics, and so forth.   Let's be willing to listen to those who are working with us and pay attention to the voice that is in the background prodding us as we make conscious decisions regarding our daily activities in the months to come.
Ask for help when you need it.  Take people up on the offer of help when appropriate.
Let us Pray – Serenity Prayer
God, grant me the serenity
to accept the things I cannot change;
courage to change the things I can;
and wisdom to know the difference—
living one day at a time;
enjoying one moment at a time.
St. John Baptist de La Salle – Pray for us
Live Jesus in our Hearts – Forever
Donald Kavanagh–Principal