(Prayer offered on the Public Address system for the entire La Salle Academy educational community on Wednesday, 10 October 2018)
Good morning!  Let us remember that we are in the holy presence of God.
Standards are everywhere.  The PSAT that you will take today, along with the SAT and ACT that many of you will take as part of your college application process, attempts to describe your academic ability with a number.  The scores you see every time you log on to PlusPortals describe the outcome of your hard work in classes and at home with another number. If you play a sport, your personal statistics can be used to compare you to other athletes.  If you use a fitness tracker, yet another number flashing at you from your wrist or phone tells you whether you're on track to hit the recommended 10,000 steps per day. The number of people who react to your social media posts even gives you a way to rate your social standing with a number.   You don't need me to tell you that the world gives you so many ways to ask yourself, "Am I measuring up?"
The most haunting standards of all, though, might be the ones that are not numerical, because no matter how the world tries, we here at La Salle know that a person is so much more than just a number.  Our true worth is found in the way we live our lives, in our words, and in our actions toward others. In the account of Jesus's Sermon on the Mount recorded in the Gospel of Matthew, Christ urges us, "love your enemies, and pray for those who persecute you […] For if you love those who love you […] what more are you doing than others?  You, therefore, must be perfect as your heavenly Father is perfect." You might be taking a so-called "high stakes test" today, but the way we live our lives is the most "high stakes" standard of all.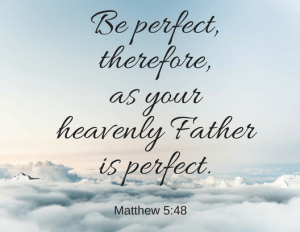 Trying to meet all of these standards is, to put it simply, a lot.   Trying to meet all of the standards swirling around you can be overwhelming, and the failure to meet these standards, whether a perceived failure or a real failure, can be devastating.  Of course, it is important to have goals, to put your best effort into meeting them, and to strive each day to be the best version of yourself. But it's also important to give yourself permission to be satisfied with what you have done, to resolve to do a better job next time without dwelling on how you did this time, and to allow yourself to be happy with yourself exactly the way you are – right now.
Let us pray:
Heavenly Father,
Sustain us in our efforts to both work toward our own goals and to do your will for us today and every day.  Amen.
St. John Baptist de La Salle, Pray for Us.
Live Jesus in our Hearts, Forever.
Lia Wahl–Math Teacher