(Prayer offered on the Public Address system for the entire La Salle Academy educational community on Friday, 9 November 2018)
Good morning La Salle and De La Salle.
Let us remember that we are in the Holy Presence of God.
Today, as we get set to commence with Spirit Week on Tuesday, let us also remember what an amazing place this school really is. Two weeks ago, students, faculty, staff, coaches, administration, and parents came together to put on our annual Open House in an effort to express just why La Salle Academy is an amazing place. Our values of faith, service, and community were on full display. Last weekend, we witnessed students share their gifts and talents both on stage and behind the scenes for the production of Anything Goes. Yesterday morning La Salle students were recognized for their academic excellence or displaying Lasallian virtues in some fashion at the Student Recognition assembly. Today, thanks to the Social Concerns Club, we had the option to dress down to raise money for local soup kitchens and homeless shelters in RI. This afternoon, a group of students will board a bus to head off to La Salette Retreat Center for a Kairos Retreat.  And this coming weekend, there are three State Championship games on the docket. There are countless other reasons why we are all blessed to be part of this community. God is truly present each and every day here, so today let us remember that and allow this astounding reality to form our minds and our hearts.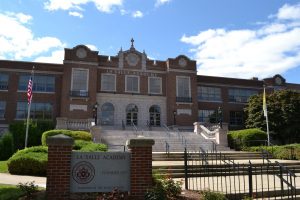 Let us pray.
Heavenly Father, we thank You. We thank You for the amazing people we get to spend each day with here at 612 Academy Ave.  We thank You for providing us with a mission to learn from one another and to serve one another. We pray in a special way today for all our students going on retreat or competing this weekend. And we pray for all the individuals and all the families in need at this time. May our hearts be generous as we do our small part to alleviate just a small portion of their suffering.  Amen.
Saint John Baptist de la Salle…Pray for us
Live Jesus in our Hearts…Forever.
Anthony Russo–Campus Minister (delivered by Katie Haidemenos–Campus Minister)