(Prayer offered on the Public Address system for the entire La Salle Academy educational community on Tuesday morning, 13 November 2018)
Let us remember that we are in the holy presence of our loving God….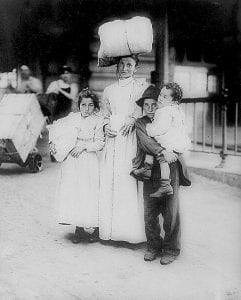 Immigrants faced many hardships in the United States.  They worked at the most menial labor and experienced discrimination both as foreigners and as Catholics.  Uprooted, without pastoral care, they were strangers even in their own Church.  The Catholic Church in America was English speaking and not equipped to deal with the non-English speaking immigrants.  There was even a political party that wanted the borders closed to keep Catholics out of the country. Despite this, the great majority of these immigrants desired to return again to their Catholic faith and devotions.  Seeking the help of religious women, a Bishop asked a nun to go to New York to work with the immigrants.  She hesitated because her dream was to go the the Orient.
Wanting to do the will of God, this nun went to the Pope.  She would not get the answer she hoped for.  The Pope knew of the nun's desire to go to China, but he told her, "Not to the East, but to the West."  Weighing heavily on the Pope's heart was the terrible conditions of the immigrants in America.
The story you just heard didn't happen 5 years ago or 10 years ago or even 50 years ago. It happened over 100 years ago towards the end of the 19th century and the immigrants were from Italy.
The plight of the immigrant has always been with us and in 1889, this nun being obedient to God's will, would not go to China but to Chinatown in New York City and the fast growing lower East Side where she and six of her sisters would minister to the over 50,000 Italian immigrants were trying to survive bodily and spiritually.
The nun was St. Frances Xavier Cabrini, whose feast we celebrate today.
She found disappointment and difficulties with every step. When she arrived in New York, the house intended to be her first orphanage in the United States was not available. The archbishop advised her to return to Italy. But Frances, truly a valiant woman, departed from the archbishop's residence all the more determined to establish that orphanage. And she did.
In 35 years, Frances Xavier Cabrini founded 67 institutions dedicated to caring for the poor, the abandoned, the uneducated and the sick. Seeing great need among Italian immigrants who were losing their faith, she organized schools and adult education classes.
As a child, she was always frightened of water, unable to overcome her fear of drowning. Yet, despite this fear, she traveled across the Atlantic Ocean more than 30 times. She died on December 22, 1917 of malaria in her own Columbus Hospital in Chicago.
In 1946 she was the first U.S. citizen to be canonized a saint.
St. Frances Cabrini shows us that when we have strong faith and turn our hardships over to God we can do amazing things.
So as we begin Spirit Week we can contemplate this prayer that was written by St. Frances Xavier Cabrini and ask the Holy Spirit to help us to always turn to God in all of our needs and to be aware and help the less fortunate in our world.
Let us pray……
Fortify me with the grace of Your Holy Spirit and give Your peace to my soul that I may be free from all needless anxiety, solicitude and worry. Help me to desire always that which is pleasing and acceptable to You so that Your will may be my will. Amen.
St. Frances Xavier Cabrini – Pray for us
St. John Baptist de La Salle – Pray for us
Live Jesus in our hearts – Forever!
Reverend Thomas Woodhouse–School Chaplain