(Prayer offered on the Public Address system for the entire La Salle Academy educational community on Friday morning, 30 November 2018)
Let us remember that we are in the holy presence of a loving God…
You may not notice this on a daily basis as you go about your busy schedule at the Academy, but, here at La Salle, every single day, we are in the holy presence of a loving God. Yes, I know that the tradition is to begin every prayer here with this statement, but we may not always see or feel this with our eyes and hearts wide open. So, please allow me to illuminate that God is truly present in this building every moment of every day.
When the Social Concerns Club shared the Adopt-a-Family lists with our Lasallian community, the response was amazing. Homerooms have been busily collecting donations and shopping for the items on the wish lists. There has been a tremendous response to the call for help on the part of our wonderful students. After distributing these wish lists to all the homerooms and groups of faculty and staff in the building, there were still two families left to adopt. I sent out an email to the Lasallian community to ask for more help from those willing to give of their own money, time, and effort. Within minutes, my G mail inbox was full of responses! I could not help but feel a deep sense of pride and gratitude that I belong to such an amazing community. This is what it means to be Lasallian.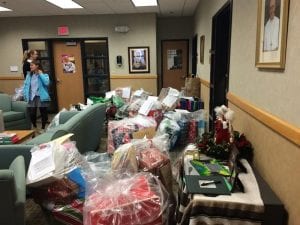 When I walk into the building each morning, people offer to hold open doors for me, warmly greet meet me asking how I am and asking about my daughters. I receive high fives and hugs from colleagues whom I consider more like family than coworkers. I see the same happen with the students in the hallways as I walk up to my classroom. You engage in meaningful conversations, show each other respect and affection, and come together in times of both struggle and joy. A big win for a sports team is normally followed by a morning of congratulations and pats on the back. When I find a student in tears, it is common to find him or her surrounded by loving friends willing to help make the day brighter. This is what it means to be Lasallian.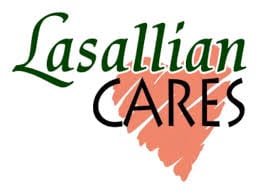 When we pray together as a community, whether in class or at a school Mass, the silence is reverent and humble. We find so many ways to pray together, regardless of different religious backgrounds or beliefs. In class conversations, we share traditions and beliefs from our diverse backgrounds and I often find so many students listening intently and wanting to learn more about their peers. You ask questions to understand those around you in a deeper way. This is what it means to be Lasallian.
I could name hundreds of ways that God is present every day at La Salle. Service learning trips, Christian Service, the bond between students on sports teams, in Theater, and in our school clubs, the countless inviting spaces within the building where people come together to make true differences, a note of gratitude from a student or a positive and encouraging remark from a teacher, or simply reading the tremendous things our community is doing when I read from the Daily Bulletin in Homeroom. This is what it means to be Lasallian.
There is an indescribable and palpable feeling of love, togetherness, unity, and community in this building. Our traditions, from the start of the Institute of the Brothers of the Christian Schools by our founder, St. John Baptist de La Salle, continue to grow stronger and stronger every day.
Today, we begin our commemoration of the 300th anniversary of the passing of St. John Baptist de La Salle, a man who sacrificed his own wealth and status to educate poor boys in France who would have otherwise remained marginalized in society. We keep his legacy alive in this building by remembering that we are in the holy presence of a loving God and sharing God's love with those around us.
Let us pray,
Heavenly Father, we ask you to bless our Lasallian community and keep our traditions strong. Today, we humbly implore you to help us see, with our minds and hearts, your loving presence as St. John Baptist de La Salle did at the start of the Lasallian Institute. Let his legacy stay alive in our building with the same fire that it has had in the last 300 + years.
St. John Baptist de La Salle, pray for us.
Live Jesus in our hearts, forever.
Amanda da Silva–English Teacher