(Prayer offered on the Public Address system for the entire La Salle Academy educational community on Monday morning, 28 January 2019—1st day of Catholic Schools Week)
Let us remember that we are in the Holy Presence of a Loving God,
Good morning and Happy Catholic Schools Week. This is a week that is dedicated to the celebration of our Catholic identity: an identity that allows us to incorporate our faith into our daily actions and interactions. We are fortunate here at La Salle to be able share the love of God with one another and join each other on a spiritual journey that strengthens our school community. This morning I would like to share with you my journey through Catholic education, specifically here at La Salle.
It started in a way that is probably similar to a lot of yours, sitting on the sidelines of basketball courts and football fields as I watched my older siblings compete for La Salle. My earliest memories of La Salle date back to 1997, long before any of you were born, when I remember sitting in the tiny gymnasium that was located where the current theater is watching my sister play basketball. It was so tiny that it seemed as if you could almost reach out and touch any of the players on the court regardless of where you were sitting in the bleachers. Then there were the cold Friday night football games for my older brother. This was back when the football field was where the baseball field is located today. I remember sitting on the sidelines and wondering what was so special about this school that made my parents want to take us out of our town's public schools and drive us half an hour to attend a school that they would have to pay for.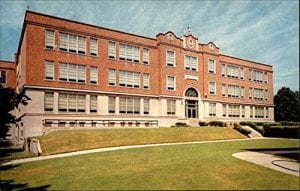 Then, a couple years later, it was my turn to start at La Salle. During my eighth grade year I remember crying when my parents told me that I would have to take the entrance exam. I was convinced they were trying to ruin my life by having me apply to La Salle. You see, I was a very shy kid and by the time I got to middle school I finally felt like I had found myself a good group of friends. The thought of having to start over at a new high school seemed terrifying. To put my mind at ease they told me that I should shadow a student at La Salle for a day to get a better idea of what the school was like. Like most of you probably did, I spent a day nervously walking from class to class with a freshman… meeting all of her friends and teachers. By the end of that day I still wasn't 100% convinced that I would love it but I at least had warmed up to the idea of giving it a shot. My parents told me that I had to at least try it for a year and then we could reconsider. Let's just say that we never had a follow up conversation at the end of my freshmen year. I fell in love with La Salle. There was and still is today something so special and unique about this school community.
On the surface it's easy to look at a place like La Salle and think that it's a wonderful place because of the fancy athletic facilities or state of the art theater. But it goes way beyond that. Now that I am older and hopefully wiser I can reflect on my time as a student and know that it was the people that made my time as a student here so special. You probably know some of them….. Mr. Sirois, Mrs. Misziasek, Ms. Sanga, Mr. Hajan, Mrs. Chapman, Mrs. Romani, Mrs. Martinelli, Mr. Wright, Mrs. King, Mr. Heroux… and the list could go on. These are people who helped my on my journey to becoming a confident senior who felt sad that her time at La Salle was coming to an end in 2005… little did I know that I would eventually be back and lucky enough to call those people my coworkers.
After graduating in 2005 I spent six year away from La Salle. Four years were spent doing my undergraduate work at the University of Oregon (go ducks) and then two years getting my Master's degree at Providence College while teaching at a Catholic high school in Fall River. Once I began my teaching career I knew that there was only one place that I wanted to end up…. a place that had become like a second home for me and my family, La Salle. As fate would have it they had a position open in Math and it was a very surreal experience coming back to interview with people that had once been my teachers. Thankfully everything worked out and a week later I got a call from Mr. Kavanagh welcoming me back to La Salle. After I hung up, I cried. Thankfully this time around they were tears of joy.
As a teacher I feel so lucky to be able to work here at La Salle: a place where we get to live out the gospel in our daily lives, where we welcome people of all backgrounds and ability levels to be part of our community. In a society that is becoming over-secularized, we must use our identity as a Catholic school to promote inclusion and service to others. It is becoming even more important for us to recognize the value of human life and the gifts that we are given to share with our community.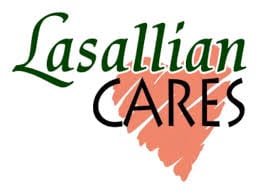 Here at La Salle things are bound to change over time. The facilities will change, the teachers and students will change, the dress code will change, but what has stayed the same over the past twenty years or so since I first stepped foot on La Salle's campus is the Catholic mission to spread justice and love… and I hope that will never change.
Last year, as some of you know, I took on a new role… being a mother. My son Ralphie was born a little over a year ago and I pray that someday he is able to come to La Salle.  My hope is that, when he attends La Salle, it is still the same special place that it is today. The only way that that can happen is if you, the students, continue to share your talents and gifts with the community. And when I say talents and gifts I don't just mean your academic, athletic, or musical talents. But also your spiritual gifts: your ability to choose between right and wrong even when the path towards what is right is more difficult and your moral gifts and desire to help those less fortunate than you. Because that is what makes La Salle such a special place. So in closing, my request to you comes, not only as your teacher but as an alum and a mother of a future student…. embrace your Lasallian identity, take pride in it, don't take it for granted, and share its mission with others. In doing so, we will continue to strengthen our community and live our lives as God intended us to.
Let us pray,
Dear God,
We praise you for the gift of community. Thank you for the communities in which we live and work. Thank you for the community that is your Body, the Church. Fill us with Your Spirit today so that, as one, we reflect your light and love to each other and to the world. Amen.
St. John Baptist de La Salle – Pray for us.
Live Jesus in our Hearts- Forever.
Megan (Maloney) Carey—Math Teacher, Alumna (Class of 20o5), and Mother of a future alumnus