(Prayer offered on the Public Address system for the entire La Salle Academy educational community on Wednesday, 30 January 2019—Founder's Day and the 3rd day of Catholic Schools Week)
Good Morning, La Salle and De La Salle–
Let Us Remember we are in the Holy Presence of a Loving God.
Today is a day that we reflect on our Founder, John Baptist de La Salle. It is sort of difficult to picture the life he lived over 300 years ago…. It's like imagining your great, great, great grandparents. We can read biographies, see pictures, and so much more, but no one sitting in this school today has actually met him. We know him to be a generous, educated, and a stubborn man who is the reason you and I are here today, but his life seems so distant. That is until we think about the people who surround us in this building who live out the same qualities he possessed.
Senior year in the Lasallian Discipleship and Vocation course, the three Campus Ministers speak about and educate our students on the 12 virtues of a Lasallian Educator. I won't bore you with listing the virtues but rather I want you to think about who comes to mind…
This Lasallian educator is calm and serene; they display patience in their day to day tasks with a gentleness felt by the entire school community. They are enthusiastic about the mission of De La Salle and are watchful while catering to everyone's needs. They are an advocate for all social justice issues and can be seen standing up for all that is right and just. They are cautious with their actions and have an open door policy with all students and colleagues. This person is loved by all and is truly a blessing in our community.
Side note: this person was wishing we had received a phone call from Mr. Kavanagh this morning stating "due to the inclement weather, there will be no school for La Salle Academy today, January 30th"… all because she doesn't want all the attention on her today.
Well, if you guessed Mrs. Estes, you are spot on!… she truly goes above and beyond her vocational calling to be a Lasallian; she is living out those 12 virtues but, more importantly, she is our present day De La Salle. Mrs. Estes will be honored this afternoon as the Distinguished Lasallian Educator of the Year….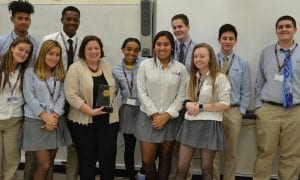 Mrs. Estes never fails to put others before herself. This won't surprise you; but, last Friday at Breadlines, Mrs. Estes was speaking to a man outside the Cathedral while serving alongside students. The man asked her if there were any hats being handed out on this cold evening and without missing a beat, she took the hat off her head handing it to the man. Her heart beats loudly in the small acts of kindness and generosity she fulfills on a daily basis. This reminds me of the times in which De La Salle would give away his riches or share food during a famine. A real day Samaritan!
Let Us Pray,
Good and gracious God, you have promised to remain forever with those who do what is right and just. Help us to live in Your presence. May we hear your call to love those around us, bringing peace and joy to others. Thank you for the gift of Mrs. Estes and all Lasallian educators living out the life of our Founder… May we remember that small deeds go a long way in making this community and the world a better place.
Saint John Baptist de La Salle…Pray For Us.
Live Jesus in Our Hearts…Forever!
Katie Haidemenos—Campus Minister and Alumna (Class of 2011)