(Prayer offered on the Public Address system for the entire La Salle Academy educational community on Thursday, 31 January 2019—4th day of Catholic Schools Week)
Let us remember… we are in the holy presence of God.
It occurred to me recently, at the vague prompting of Mrs. Estes, that of all the members of this community I might have one of the longest associations with this place.
I came to La Salle as a freshman in September of 1959, almost 60 years ago.  I graduated college, was drafted, went to grad school, and then, in 1971 returned here to be a math teacher – a miracle in my life.  So for the last 48 years, including 3 terrifying years as an assistant principal, I am here.
My wife, Carolee, was also a math teacher with me for over twenty years, and our five children graduated from La Salle – all five were in my classes.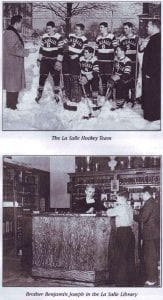 When I was a student each class had 40 boys.  Our desks were bolted to the floor in perfect rows.  We stayed in the same classroom all day, as the different subject teachers came to us and then left.  When we went to lunch we ate standing, at tables about four feet high.  The Brothers' House was full, with 30 or 40 Brothers.   Of course, there was no athletic center, no science building, no guidance department, no computer, no calculator…  At the end of the school day there would be perhaps 100 boys, including me, out on Smith Street with our thumbs out, hitching rides to homes in North Providence, Johnston, Smithfield, and beyond.  As I recall, we all got home safely.
Wow, have things changed!  Thanks be to God.
So, you see, I know a thing or two about this place.  And one thing I know is that, today, La Salle is better than it has ever been.  And another thing is:  we did not get here by accident.  I want to point out three of the reasons for this community's great strength.
First, we must thank the Christian Brothers.  This Institute has called its Brothers, its lay associates, its students to a renewed understanding of the mission and spirit of John Baptist de La Salle.  The Brothers have been remarkably faithful and energetic in educating all of us.  For me, the Brothers have given me nothing less than a path (not a pass) toward salvation.  I am deeply grateful.  I hope you are, too.
Second, for decades now teachers and staff, inspired by the Lasallian mission, have accepted that mission and made it theirs.  Your teachers are here not to simply do a job, but to heed a calling from above, an important calling that breathes a discernible life into this community.  Again, I am grateful.
And, of course, our community of students is the core of everything we do here.  Each morning I truly look forward to being with my students, with their pains, their grief, their joys, their frustrations.  You students are the reason for this place, this endeavor, as we move with each other toward salvation, toward holiness, toward wholeness.  Remember, it is not just my wholeness, or your wholeness.  It is OUR wholeness.  We do this together.   Again, so grateful!
Let us pray.
O God, Ineffable Mercy, we raise our hearts in thanksgiving this morning:
For the way You led your servant, John Baptist de La Salle, to his mission of service and education
For the Institute he founded to announce Your presence to all, especially the poor
For this vibrant community of students, teachers, and staff
For giving each of us, and all of us, a path toward wholeness, toward You!
St. John Baptist de La Salle, pray for us.
Live, Jesus, in our hearts.  Forever!
Michael McNamara–Math Teacher, Alumnus (Class of 1963), Parent of 5 Alums