(Prayer offered on the Public Address system for the entire La Salle Academy educational community on Friday morning, 8 March 2019—International Women's Day)
Let us remember that we are in the holy presence of a loving God…
As Victoria mentioned on Tuesday, this month is dedicated to celebrating the achievements of women throughout history, along with celebrating things like Pi Day (for my math people), St. Patrick's Day (for my Irish friends), and even Peanut Butter Lovers' Day.  But today, March 8th, has been marked as International Women's Day. I'm going to read a short passage from the International Women's Day website, because it's written better than anything I would have come up with on my own.
"Throughout ancient and modern history, women have collaborated and lead purposeful action to redress inequality in the hope of a better future for their communities, their children, and themselves. Whether through bold, well-documented action or through humble resistance that never made it into the history books, women have united for equality and achievement forever."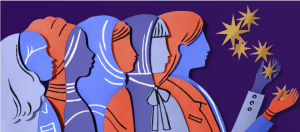 The first officially named International Women's Day event was held in 1911, and still to this day, International Women's Day is a powerful platform that celebrates the achievements of and drives action for women. As I was thinking about this prayer, I started to think of all the important women that have been a part of my life:
My sister, Erin, whom I wished for so badly as a little girl, and who always shows me the true meaning of hard work and dedication.
My friends: Jackie, who has the kindest heart; Kelsey, who is the quickest to jump in if I need help and is always down to cause a little trouble; Casey, who can make me laugh, even after the worst of days; and, Angie, who challenges me to step out of my comfort zone.
My Nan and my Noni, who lovingly took care of me when I was younger, and who always had the best snacks, as most grandmothers do. And my mom, who showed me the importance of education and who will always be my best teacher.
So I ask you to think about a woman or women in your life. Does she inspire you? Does she support you? Does she challenge you to be a better human? How can you show that you value her? Do you say that you love her enough? What can you do to lift her up?
Show her.
Tell her.
And so we pray…Let us remember that we are powerful beyond measure. As humans, we are more frightened by the light within us than the darkness. Playing small does not serve the world. We were all meant to shine, and that light isn't just within some of us; everyone possesses it. As we let our light become visible, we unconsciously give others permission to do the same. Guide us to always choose light over darkness.
St. John Baptist de La Salle, pray for us.
Live Jesus in our hearts, forever.
Morgan Kane–Mathematics Teacher