(Prayer offered on the Public Address system for the entire La Salle Academy educational community on Thursday morning, 14 March 2019—Poverty Awareness Week)
Good morning La Salle and De La Salle.
Let us remember that we are in the holy presence of a loving God.
As I hope you know, this week is Poverty Education Week at La Salle.  March is also Women's History Month.
So this morning, I'd like you to consider these realities:
According to statistics released last year by the National Women's Law Center, 42 million women in the US live in poverty (that is 1 out of every 3 American women)  More than half of all poor children lived in female-headed families in 2015.  And one out of every six women in the world is a victim of attempted rape in her lifetime.  These women and girls are someone's daughter, mother, sister, friend.
There are so many places in the world where it is just not safe to be a girl.
By now you've all heard the story of Malala Yousafzai of Pakistan—the young woman awarded the Nobel Peace Prize in 2014.   A prophetic and persistent voice for girls' education, Malala survived a gunshot wound and attack as she traveled home from school one afternoon in 2012.
Perhaps you've also heard of Dr. Mona Attisha–a relentless and outspoken doctor who stood up to powerful politicians and spoke up on behalf of children being poisoned by their water in Flint, Michigan.  I encourage you to read her book What the Eyes Don't See and to come to a discussion of this social justice crisis on Thursday, March 28, after school in the library.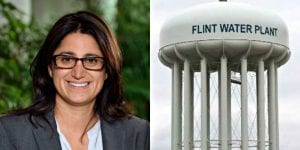 And there are so many other stories, too numerous to mention here—of girls near and far sold into slavery and human trafficking, of female children arranged into marriages as young as 12 years old because their families cannot afford to feed them.
Until the day when ALL men and women live in the fullness that God intends for his children, there is much work to be done.  Imagine the world we could all have if women everywhere were not held in the shackles of poverty, sexual violence, and discrimination.  As the writer Audre Lorde reminded us, "I am not free while any woman is unfree."
So what can you do?  How can you treat the women and girls in your life with dignity and more respect? How do we speak of women? in our society? in our school? in our communities? in our locker rooms? Do we listen to songs or watch movies that degrade and diminish women?   How do these lead us to treat the real women in our lives?  The women and girls in my life—my mom, my aunts, and my own daughter Madeleine inspire me to speak out.  I hope the girls in your life do the same.
Let us pray:
Jesus, our brother, friend, companion—You treated the women in your company as people in their own right and there were so many women–Mary Magdalen, Joanna, Peter's mother-in-law, Jairus' daughter, the woman at Bethany, Martha, the Samaritan woman, the widow of Nain, the woman bent in paralysis, the Syrophoenician woman, and so many of the unnamed ones.
We look to you as we ask forgiveness for the times we have hurt the women in our lives.  And we look to you to make us strong, so that we can create a world safe for all of us.
St. John Baptist de La Salle: Pray for us!
Live Jesus in our Hearts: Forever!
Christine Estes–Director of Campus Ministry