(Prayer offered on the Public Address system for the entire La Salle Academy educational community on Friday, 3 May 2019—Pro-Life Week)
Let us remember that we are in the holy presence of God.
We are made in the image of God, each and every one of us. No exceptions. From the first chapter of Genesis to the most recent edition of the Catechism, this statement above describing who we are and what kind of person God wants us to be is at the heart of morality. It is the foundation for loving people, our God and ourselves.
The Scripture tells us that from the moment of conception, God knew us and loved us: "Before I formed you in the womb I knew you/ and before you were born I consecrated you" (Jeremiah 1:5). Sacred Tradition also speaks of the dignity of all life, confirming that every human life is sacred until natural death, from womb to tomb.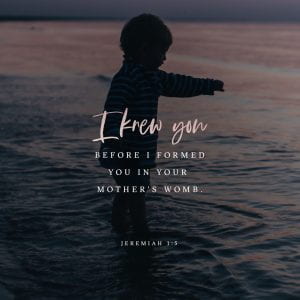 Sometimes, the lives of others or even our own life may not be perfect, and life can make demands on us that are not what we want. Children and adults who are disabled or ill require a great deal of demanding care. Sometimes other people can be annoying, inconvenient, or even our enemy. But each life is precious to God as we are. We can never throw a life away. The beginning and end of every life is up to God, and only God.
Let us pray,
Lord, help us to remember that all life is sacred.  In our prayer during the month of May, we remember the unborn, the sick, the handicapped, the imprisoned, and all those who do not have a voice, that You watch over them and grant them your healing and peace.
Saint John Baptist de La Salle…pray for us.
Live Jesus in our hearts…forever.
Ayobami Ayorinde–Class of 2021