(Prayer offered on the Public Address system for the entire La Salle Academy educational community on Wednesday morning, 15 May 2019)
Let us remember…we are in the holy presence of God.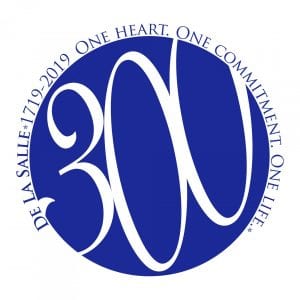 During this year of 2019 we have been celebrating the 300th anniversary of our Founder's death.   And celebrate is, indeed, the right word there, because John Baptist de La Salle's death might mark the end of the founding story, but it was just the beginning of the whole story.  In fact we here, at La Salle in Providence, are living the John Baptist de La Salle story.  And today we join with the entire Lasallian world to celebrate the feast of this giant, this man, this teacher, this saint.
In some sense, I hope and trust, we are all becoming Lasallians.   The freshman students who learn about De La Salle's remarkable life are becoming Lasallians.  The students who support Breadlines, serve on mission trips, serve meals at Mary House, serve on Christian Service – all becoming Lasallians.  The faculty and staff who participate in formation experiences here in school and across the country – all becoming Lasallians.
But at the very core of the Lasallian world is the body of vowed Brothers.
These are men who have handed down, from Brother to Brother, from generation to generation, the Founder's vision of service, of goodness, of love for the poor and the marginalized.
These are men who have committed themselves for life, have given themselves completely to God, and to the mission of bringing salvation, now and eternally, to those, to us, who do not know salvation.
And these are men who have invited us all to act in association with them as they pursue their mission.  How blessed are we – how blessed am I – by that invitation!
This morning, on this glorious feast day, Brother Thomas Gerrow and Brother Frederick Mueller will renew their vows in our presence.  Believe me when I tell you that these men have greatly enriched La Salle Academy in many, many ways.   And this morning, as we listen, they will recommit themselves, yet again, to the service of the Lord, to the love of the poor, to the salvation of all.

Let us pray.
God of mercy and compassion, thank you for the extraordinary life, witness, and ministry of the De La Salle Christian Brothers in our Church.  In your wisdom you have called these men to generously serve, pray and share your healing love.  Grant them continued grace and strength, and deepen our appreciation for their vocation.
Saint John Baptist de La Salle, pray for us.
Live, Jesus, in our hearts!  Forever!
Michael McNamara, AFSC–Math Teacher
VOW FORMULA
Most Holy Trinity, Father, Son and Holy Spirit, prostrate with the most profound respect before your infinite and adorable majesty, I consecrate myself entirely to you to procure your glory as far as I shall be able and as you will require of me.
For this purpose, I … promise and vow to unite myself, and to remain in society, with the Brothers of the Christian Schools who are associated to conduct together and by association, schools for the service of the poor, to go wherever I may be sent and to do whatever I shall be assigned, either by the Body of the Society, or by its Superiors.
Wherefore, I promise and vow association for the service of the poor through education, stability in the Institute, obedience, chastity and poverty, in accordance with the Bull of Approbation and the Rule of the Institute. I promise to keep these vows faithfully all my life.