(Student Welcome Address at the Commencement Exercises for La Salle Academy on Thursday evening, 6 June 2019)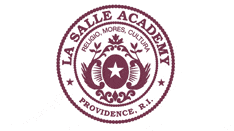 YOUR EXCELLENCY BISHOP EVANS; BROTHER THOMAS, PRESIDENT; MEMBERS OF THE BOARD; FACULTY; ALUMNI MARSHALS OF THE CLASS OF 1969; PARENTS; GUESTS;  MEMBERS OF THE GRADUATING CLASS OF 2019.
I am honored to welcome you to La Salle Academy's 148th graduation ceremony. Benjamin Disraeli said, "Time is precious, but truth is more precious than time."  As we are now in our final moments as students of La Salle Academy, time is truly precious.  It feels like yesterday we were all nervously walking into orientation, unsure about what our La Salle experience would be like. Four years of making the halls of La Salle our home have quickly gone by.  This year, we celebrate the 300th anniversary of the death of our founder, St. John Baptist de La Salle, and we are quickly approaching the 150th anniversary of La Salle Academy, Providence. Now, we truly become part of this bigger legacy, one that has spanned great lengths of precious time.
So now, we must ask ourselves: what is our contribution to this legacy?  If we wanted to capture this class, to make a time capsule, what would we want to fill it with?  What would tell our piece of the story?
We would fill it with our academic successes. Not just our report cards and SAT scores, but with the knowledge we have gained from our teachers, the curiosity to explore the world around us, and a passion to be lifelong learners.  The Class of 2019 is off to universities, colleges, and careers across the country in every discipline imaginable.
We would want to put in our time capsule our artistic abilities, the paintings and performances, the videos and concerts; a record of our talented artists who saw beauty in the world and shared it with us in artistic expression.
Into the time capsule would go our athletic victories, the trophies and rings, but, more importantly, the values we learned here.  On the fields and courts, running on tracks and skating on the ice, we have made La Salle proud of our sense of fair play, the perseverance we have demonstrated, and the relationships we have formed with our teammates.
We would want our time capsule to hold our contribution to the Lasallian mission.  When others look back, they will see that we did the good work as people of faith in Christian Service,  service learning trips, and through the kindness we showed one another. We served the poor and the marginalized, sought social justice, and showed our love for God by loving each other.
We would stuff the time capsule with memories of friends, tailgates before football games, school Masses, and the musical, Oklahoma. It would burst open with the friendly faces from homeroom and our lunch table and glow with the kindness and guidance of our teachers, Campus Ministers, and the endless support of our parents.  It would show the care and effort of our Dean, Ms. Doyle, for the countless hours she has devoted to our class and constant concern she has shown each one of us. But, unlike other time capsules, while we do gift it to the legacy that is La Salle, we don't just leave it behind. We take it with us in our hearts wherever our roads lead in our future. We do not bury these achievements underground but continue to breathe fuller life into them as we, with the help of God, share them in the communities we enter in the future. Whether we are working, pursuing a degree in college, or serving our community, these pieces of our Lasallian time capsule will always be with us.
Time is precious, but the truth is more precious than time.  And the truth is that, from the outside, our time capsule may appear similar to that of the many classes that have come before us, but our unique talents and memories have overflowed the inside of our time capsule.  The truth of this class is that we have upheld and made proud the tradition of La Salle Academy. The truth is that we have enhanced its history and culture through our participation in it and that only time will further tell what we will contribute in the years to come.  While we proudly join the thousands and thousands of alumni that have enjoyed the fulfillment of graduating La Salle Academy, the truth is that today is for us, the Class of 2019.
Congratulations.
Austin G. Marinosci–Alumnus (Class of 2019)