(Student Address at the Commencement Exercises for La Salle Academy on Thursday evening, 6 June 2019)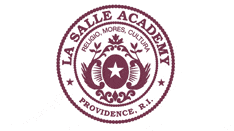 YOUR EXCELLENCY BISHOP EVANS; BROTHER THOMAS, PRESIDENT;  MEMBERS OF THE BOARD; FACULTY; ALUMNI MARSHALS OF THE CLASS OF 1969; PARENTS; GUESTS;  MEMBERS OF THE GRADUATING CLASS OF 2019,
I want to begin by saying a few words of thanks. First, I would like to thank our parents for the immeasurable sacrifice they have made over the past four years to send us to La Salle Academy. I want to say thank you to administrators, teachers, coaches, directors, Campus Ministers, and club moderators for shaping us into the people we are today. Most importantly, I would like to thank Ms. Doyle for being a role model and for guiding us through these past four years as our dean. Outside of telling us to tuck in our shirts every day, she has been somebody we could turn to when we needed a shoulder to lean on. Each one of you has made it possible for us to be here tonight.
In 2014, Admiral William H. McRaven gave the commencement speech at the University of Texas. In this memorable graduation speech, which most of us watched in Service Class, Admiral McRaven gave ten life lessons to the graduating students. I hope to give some of these same life lessons but with a Lasallian twist.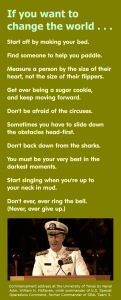 Admiral McRaven's first life lesson is: "If you want to change the world, start off by making your bed." I don't think the Admiral would be too happy to hear that, most likely, about 330 of us woke up ten minutes before we left home each morning while barely having enough time to eat breakfast. Many of us never made it to school in time to find a "real" parking spot and some of us even had our license plates called over the PA, requiring us to see Ms. Doyle in Student Life. So, maybe we didn't change the world by making our bed, but we did start each day with a prayer. Even more, we started each class with a prayer. No matter how good or bad our day was, we always had our faith to turn to and that faith pushed us to change the world. We did this by helping hundreds of thousands of people through donations, dress down days, mission trips, and Christian Service on Wednesdays. Saint John Baptist de La Salle began the Brothers of the Christian Schools in 1680. He dedicated his life to the Christian education of children with a special emphasis on helping the poor. Today, 300 years after his death, his mission is thriving in the Lasallian community and at 612 Academy Ave.  So, we will change the world by relying on our faith and our Lasallian family, even though we may not have made our beds.
Admiral McRaven's next life lesson is: "If you want to change the world, find someone to help you paddle." The first thing I thought when I heard this lesson was the legendary white water rafting story that Mr. Kavanagh told our class at the start of each year. Helping us paddle through high school on our "white water raft," we've had help from Ms. Doyle, the guidance office, Campus Ministers, teachers, and our friends. Our friends have helped us win state championships, they've given us a hug after a big theater performance, and they've held our hands as the Beehive stormed Cimini Stadium. It isn't always easy with a group of friends and we've certainly had our disagreements, which sometimes could be heard in the cafeteria. But, in the end, these are the people who have supported and helped us for four years. So, we will change the world by having these people to help us paddle our raft.
 Another lesson from Admiral McRaven is, "If you want to change the world, measure a person by the size of their heart, not by the size of their flippers." If we have learned one thing at La Salle, it has been not to judge someone until we know their full story. La Salle has taught us to look beyond our uniforms and to find the Lasallians underneath. It is this Lasallian spirit that can be found in every corner of every hallway of every building that has helped shape our hearts while at La Salle. Our Best Buddies Club has hosted four Best Buddy Weeks, where we have taken the pledge to "spread the word to end the word." We have worked to help end poverty in our own backyard during Poverty Week. We have attempted to end the stigma surrounding mental health during our first Mental Health Awareness Week. During our time at La Salle, we have attempted to understand our friends, our classmates, and the people around us. So, we will change the world by measuring people by their hearts, not by who they appear to be.
It is surreal to think that, four years ago, we walked into La Salle for the first time, not knowing what to expect. As little Freshmen, we met our best friends for the first time and listened to Ms. Doyle tell us that before we knew it, we would be seniors. I am sure that we won't be sad to leave behind the 6:30 a.m. wake ups, the very late nights finishing projects, or the stress of finding parking spots, but we are going to miss the humorous lunch conversations, playing games in Campus Ministry during our free periods, being in the locker room before a big game, or hanging out backstage during a theater production. We are going to miss sprinting into Clash of the Classes, getting ready at a friend's house before Harvest Ball, and going to tailgates before football games. Most importantly, we are going to miss this community. We are going to miss the feeling of being a part of something bigger than ourselves.
There is a quote from a TV show that reads,  "It's the oldest story in the world. One day you're seventeen and planning for someday. And then quietly and without you ever really noticing, someday is today. And that someday is yesterday. And this is your life." Since we were Freshmen, we have been planning for and counting down to this moment. Now, here we are, and we are already planning for the coming years. The future holds some of our biggest challenges yet. With everything La Salle has taught us, starting the day with our faith, having a couple of friends to help us paddle along, and loving people for the size of their hearts, I am confident we can face these challenges. So, to the Class of 2019, I want to say thank you for the best four years of my life. It has been an unreal experience.
Roll Rams.
Catherine M. Medeiros–Alumna (Class of 2019)