Let us remember we are in the holy presence of a loving God.
As I finished a run last spring, an unfamiliar mail carrier called out to me from across the street-
"La Salle Academy! Great school!"
I looked down and realized I was wearing a La Salle shirt.
"Class of '03!" I yelled back.
"76!" he replied.
"No way. My dad graduated in '76," I said. "Francis Smith."
"Francis Sm…oh my God you look like Francis!"
I laughed because…it's true.
And as I walked up my front steps, I flashed back to a moment …to something my father said to me in our living room when I first came downstairs in my La Salle basketball uniform as a freshman. Now before I read this part two things:
First of all – I only played basketball the one year at La Salle and after that stuck to cross country, swimming, and theatre.
And secondly, this thing that I'm about to share with you… what my father said …sounds outrageously cheesy and contrived, but if you ever knew my father at all, you would know that this is precisely the kind of thing he would say, and absolutely believe: "When you wear that uniform you aren't just representing yourself. You are representing your team, your school, your family, and the countless others who have worn the name of La Salle before you."
What does it mean to wear something that says "La Salle?"
It – in name-  identifies us as Lasallian. And being Lasallian comes with great responsibility. But this year…in a year of great grief, exhaustion, and pain… we don't have as many opportunities to participate as we once did…in sports, in clubs, in person. But what we do have is an opportunity to continue to wear the name of La Salle proudly in what we do, what we say, and how we live.
Let us pray,
In this, our school's 150th year, a year also filled with great trials, and grief, may we continue to remember who we are. May we show the younger and newer members of our community what it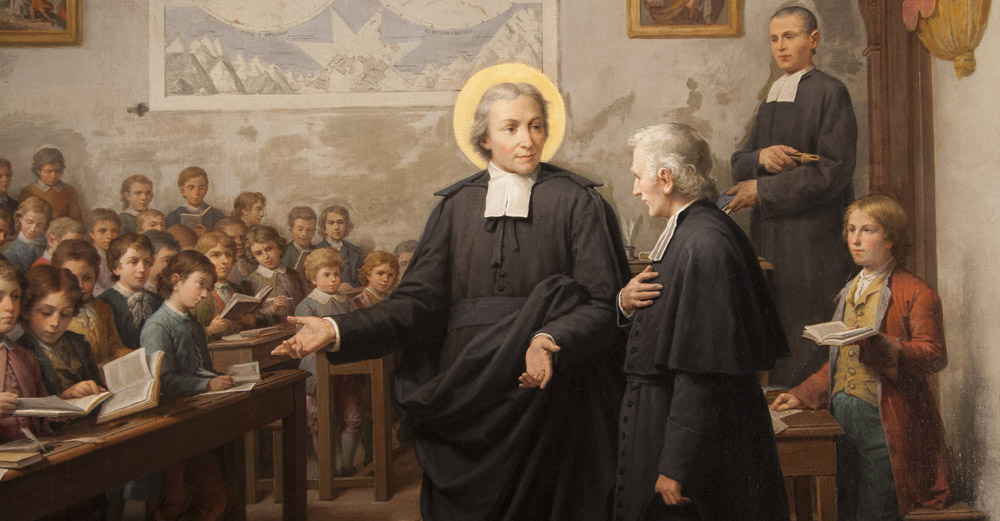 means to be Lasallian.
And may we repeat with intention each day.
St. Jean Baptiste de La Salle
Pray for Us
Live Jesus in Our hearts forever.