Let us remember that we are in the Holy Presence of God
Recently a special friend of mine cued me in on some little known information on the origins of Lasallian education. It involves a man named Adrian Nyel, who was a layman providing education for the poor. His first call was at the convent of the teaching Sisters in Reims, France. And one day, an unnamed wealthy widow asked Nyel to see about founding a charity school for boys. I find it to be a beautiful coincidence that we celebrate our Founder's Day the same time as Women's History Month, because it was a woman who proposed that this school for poor boys be established.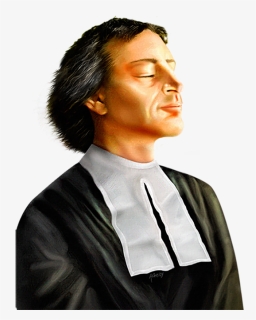 Around the same time, born in 1651, our founder St. John Baptist DLS, a native of Reims, France, felt a call to serve God. DLS was named a canon of Reims Cathedral when he was 16, and was ordained a priest and became a doctor of theology by the time he was 29 years old. So, For the first 29 years of this man's life, DLS thought that his mission was to – climb the church hierarchy.
That is until one day by pure chance DLS met with Adrian Nyel, and agreed to help Nyel establish the proposed school for poor boys. And they succeeded in hiring teachers and opening these schools, but shortly thereafter Nyel continued his own path and left Reims to open more schools elsewhere. SO then DLS was left as the lone leader of all these teachers. He set up a network of schools throughout France and, well the rest of the story is history — but also, the rest of the story is sitting right next to you. 
I had said that Adrian Nyel met DLS by pure chance, but actually it was God's hand that placed Nyel in DLS's path. These may seem like coincidences only to us, because we can't comprehend or predict the path that God, the greatest storyteller, has already written for us. It took 30 years for DLS to enter the world of education, and now 300 years later, here we are, honoring him everyday for something that he didn't even know that he could do until God placed someone in his life like a train track that suddenly changes course no need to question no need to think — just do just follow, the shepherd and trust that he knows the way.
Let us pray,
Dear God, May we become more aware of the ways in which we can serve as your instruments in order to open possibilities for others that they had previously not thought possible. Dear God, I thank you for the people in this very building that you have placed on my journey in this life, that have set me on a path that I never would have known.
Dear God may we trust only your plan, and remain open everyday to the possibility of changing course. May we commit to our faith and our service to others and may we not worry about trying hard to find our purpose because God already has it in place – we need only submit and trust as our founder did. 
St. John Baptist de La Salle – Pray for us.
Live Jesus in our hearts – Forever.
Mr. Armondo Monge, Spanish Teacher, La Salle Academy, Providence, RI