Let us remember that we are in the holy presence of God.
 So, during supper,
fully aware that the Father had put everything into his power
and that he had come from God and was returning to God,
 Jesus rose from supper and took off his outer garments.
He took a towel and tied it around his waist.
Then he poured water into a basin
and began to wash the disciples' feet
and dry them with the towel around his waist.
Today, the Church observes Holy Thursday—that day when Jesus celebrated a last Passover meal with his friends and disciples, that day which became for Catholics the roots of our celebration of the Eucharist.  That meal—like all meals in fact—meant someone was both host and servant.  In John's version of the last supper—the version which we hear at mass this evening—-the funny thing is that no mention is ever made of bread or wine.  Instead, what we have is a story of Jesus as teacher washing the feet of his friends and disciples.   When he is finished, he tells them clearly, "I have given you a model to follow, so that as I have done for you, you should also do."
Why is this important?  Because for the author of John's Gospel—the meal is unmistakingly tied to a ministry of hospitality in which Jesus is both host and servant.   In other words, the point of the meal is not just to eat it, but rather to become so changed by the meal, that we become like Jesus, and live as servants.  Let's not forget after all, that this meal for Jesus and his disciples—all
devout Jews—was a celebration of the Passover—an event that marks the liberation of the Israelites from the bondage of oppression and slavery.  So the question becomes how will this meal change us so that we might become servants?
Like the disciples in the Garden, we can sometimes fall asleep on the job, be reluctant, and prefer not to be involved in the pain of others.  At the foot of the cross, only a few stood with Jesus.  Sometimes, we are afraid of the cost and we flee, when we should remain.  As we move to the end of our Lenten journey, we call to mind the image of Jesus on his knees washing his friends feet.  On this Holy Thursday morning, we remember the suffering of Christ as we face the suffering in our world.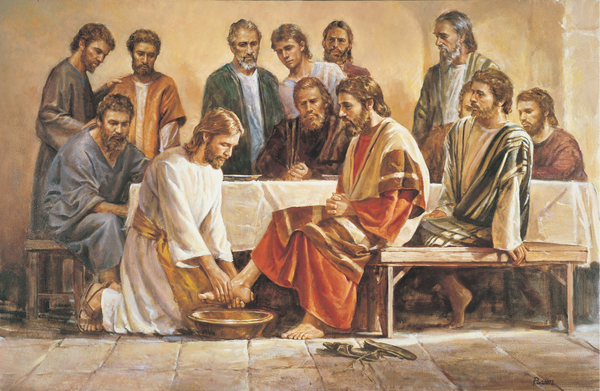 Let us pray,
God of love and mercy
Like the early disciples, we can be afraid, tentative, and weak
And we prefer not to see or experience agony.
So we call upon Mary and the women at the foot of the cross
To intercede for us.
To help us recognize the suffering in the man or woman standing besides us
As people of Paschal Mystery,
Help us to be present with our brothers and sisters in pain.
Be with us as we struggle to know that we can only move to the resurrection by way of the cross.
Amen.
St. John Baptist de La Salle: Pray for us
Live Jesus in our Hearts: Forever!
Mrs. Christine Estes, Lasallian Coordinator, Religion Department Chair