(Prayer offered on the Public Address system and the school-wide intranet for the entire La Salle Academy educational community on Monday morning, 8 April 2019)
Good morning, ladies and gentlemen.
Let us remember that we are in the holy presence of God.
The date is April 7th—the year 1719.  It is Good Friday.  Surrounded by his Brothers from the community of Saint Yon, near Rouen, France, and other Brothers from nearby communities who had come together to pray for their beloved Founder on his deathbed, John Baptist de La Salle uttered his final words.  Those last words—words that we see every day in large script in the center of our cafeteria—were: "I adore in all things the will of God in my regard".  In other words: "I accept all that God has given to me, the good and the not so good, and I thank God for what he has done for me in my life".  Having quietly spoken these words of great faith, John Baptist de La Salle passed from this earthly life into eternal life.
Today we here at De La Salle Middle School and La Salle Academy, bearers of his name, celebrate the 300th anniversary of that passing.
Throughout this year we are remembering this event, not with sadness, but with much celebration.  We rejoice that, after 300 years, the story of Saint La Salle lives on—in the Lasallian world in more than 80 countries, in the committed Lasallians, partners and Brothers, who across the globe try to do each day what De La Salle did in his time, and in the more than one million students, of all races and religions, who receive a Lasallian education.  And, we celebrate today that the story of St. La Salle is alive and well here—each of us shares "one heart" burning with zeal to act with love and justice, "one commitment" to be women and men of faith, service and community, "one life" answering God's call to be the best persons we can be.
The Lasallian story is woven into our individual stories.  The short video that we will soon view gives us a quick glimpse of these stories.  It is our 300th Anniversary Card—a card we send first to ourselves and then to our brother and sister Lasallians in the United States and around the world through the gift of social media and the internet.  In the weeks and months ahead we will hear and see more of our own Lasallian stories, stories that illustrate that Saint John Baptist de La Salle lives on in and through those who answer the call to be Lasallian.  "His story is our story.  Together we are writing the story!"
At the end of the video, Mrs. Estes will conclude this morning's prayer.  Homeroom teachers are now asked to play the video!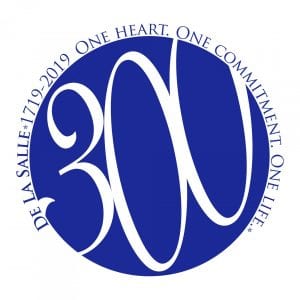 Together,  Let us pray
Dear God,  we thank you for your servant St. John Baptist de La Salle and for his willingness to leave behind the world he knew for one that you drew him to.  We thank you for that first community of brothers—born of hope and struggle, faith and zeal.  We pause in gratitude for we are part of that story—a story that has spanned centuries and continents—and has animated the minds, hearts, and souls of so many.  Spirit of God, we trust that you will lead us today and in the days to come, so that we may faithfully continue to add chapters to this Lasallian story in new and creative ways.
St. John Baptist de La Salle: Pray for Us!
Live Jesus in our Hearts: Forever!
______________________________
Today, to mark the 300 years since St. John Baptist de La Salle passed from this world into eternal life, a relic from his body will be on display in the small chapel in campus ministry.  A relic is the physical remains of a saint in the Catholic Church.  Catholics do not worship relics.  Instead, this relic serves as a concrete, tangible memorial to our founder.  If you have time today, stop into the chapel in campus ministry, sit for a minute in that chapel, and give thanks for this family story of ours, and for all the ways that your life has been blessed because you are a Lasallian.
In a moment, members of Lasallian youth will visit all the homerooms in our high school and middle school to distribute gifts to mark this special day.  I encourage you to wear and display this memento of our founder proudly, today and every day.
Brother Frederick Mueller, FSC and Christine Estes (Prayer);  Elissa Cerros and Drew Lagace (Video)